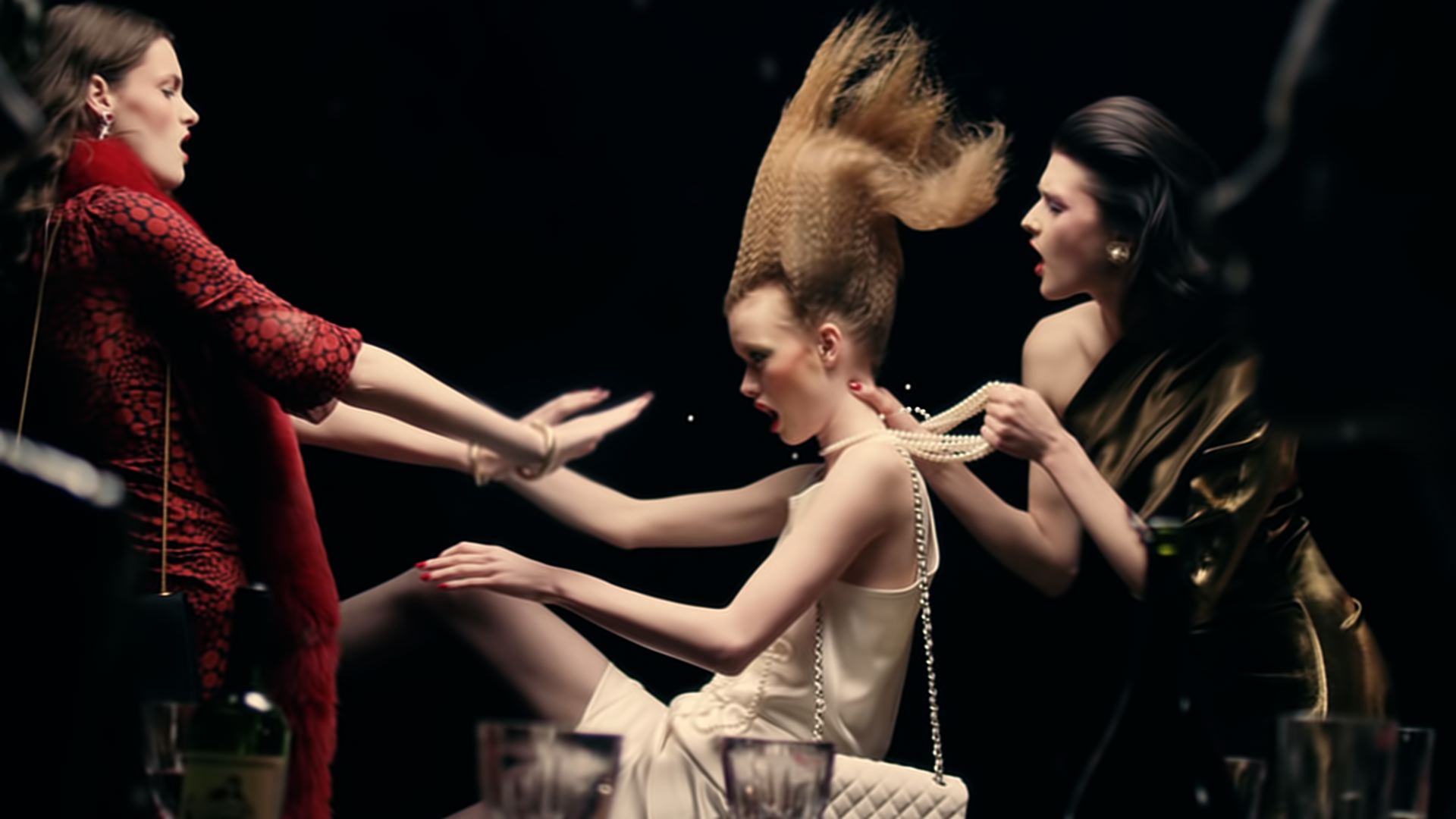 LONDON, United Kingdom — In today's digitally driven world, good video content can spread like wild fire, as consumers share it through social media and pass videos to friends and followers. Youtube receives more than 1 billion unique visitors every month, with daily video views growing 60 percent year-on-year. By 2019, video will account for 80 percent all consumer Internet traffic, according to research by US technology company Cisco.
But for years, the fashion industry has failed to fulfil the potential of fashion films, prioritising print campaigns and leaving video content as an afterthought; from montages of edited, behind-the-scenes footage to last minute efforts made with the leftover marketing budget.
Looking at this season's selection of fashion films, you can see the industry beginning to wake up — brands have experimented with bold filmic styles, humorous storylines and star-studded casts. But while some, like Gucci and Miu Miu, may have turned to sophisticated cinematic techniques to bring a collection to life — capturing the languid mood of their campaigns, not just their clothes — they still fell back on the predictable format of film versions of their print content. Others, such Balmain x H&M and Tom Ford, hired social media stars and crafted mock-music videos — an efficient, but unimaginative play to woo millennial audiences.
The most innovative films blended humour, narrative and a strong aesthetic to create witty, often-surreal vignettes that riff on modern society and send up the luxury fashion consumer. Take this season's top two choices, Kenzo's "Here Now," a darkly comic, highly-stylised short documenting the highs and lows of adolescence; and Balenciaga's Wes Anderson-inspired "Une Incroyable Excuse," which serves as a showcase for the brand's accessories. These films stand out because they bring a new dimension to the brand's campaign, and could never be accused of tokenism.
But, while the diverse collection below is evidence of a number of brands trying to make sense of the medium, too many continue to leave the potential of video untapped. Advancements in video are coming, but at a creeping pace. Perhaps this season's best offerings will inspire even greater experimentation for Spring/Summer 2016.
Now without further ado, sit back and enjoy our selection of The Top 10 Fashion Films of the Season. And don't forget to let us know which ones you like best.
1. "Here Now" by Gregg Araki for Kenzo

In this delightful, blackly comic short, "Here Now," Kenzo have teamed up with Gregg Araki, director of the cult 1990s Teenage Apocalypse Trilogy. It's not the first time the brand has worked with some of the film industry's most innovative figures (previous collaborators include David Lynch and Spike Jonze) — this season the result is a stylish and surreal portrait of the trials and tribulations of high school relationships. Set in a diner and starring emerging actors Avan Jogia, Grace Victoria Cox and Jacob Artist as teenagers all dealing with romance, the six-minute short is the longest on BoF's list. Seen through the lens of Araki's distinct Californian aesthetic, and full of his signature bizarre moments — including a couple making out while eating a cheeseburger and a teenage girl dressed as a nun — "Here Now" is dark, messy and incredibly well-dressed.
2. "Une Incroyable Excuse" by Danny Sangra for Balenciaga and MyTheresa.com

Filmed in an iconic Parisian haunt — the Caviar Kaspia restaurant — and directed by Danny Sangra, Balenciaga's video is a glamorous, tongue-in-cheek take on the fashion industry, supported by a lively soundtrack from Beethoven. It is also the first foray into film by German e-commerce company My Theresa, Balenciaga's collaborator on the project. Director Sangra has taken inspiration from directors such as Wes Anderson, masterfully blending ordinary emotions with extraordinary circumstances in the film as two models (Marie Trestef and Ines Terlet) bicker over their friend (played by Jessica Cressy) Polly's late arrival to brunch, only for her to reveal the reason for her delay — she had lost her keys in the alternative universe hidden in her handbag. Witty and wonderfully ironic, this elegantly shot video uses humour to elevate its story above the typical campaign, while serving as an elegant showcase for the brand's accessories collection — all of which was, naturally, immediately shoppable through My Theresa's website.
3. Miu Miu by Gordon Von Steiner

An accompaniment to Miu Miu and Steven Meisel's Autumn/Winter 2015 print campaign, and sharing its title, "Subjective Reality," this video was shot in a similarly grainy style, tracking a series of models around the streets of New York's East Village and Brooklyn. It was directed by Gordon von Steiner, one of the industry's most precocious and sought-after film talents, and follows models Madison Brown, Hailey Gates and Mia Goth as they float restlessly about the city. Featuring a compelling jazz infused soundtrack, the short reveals an otherworldly aspect to the city and beautifully captures the languid, discordant modernity of Miu Miu's period-inspired collection.
4. Rolling with Emilio Pucci by Edward Housden

This five-minute short is the brand's first fashion film since Massimo Giorgetti's appointment as creative director in March earlier this year, and showcases the designer's debut collection for the label. Without a single word of dialogue, the film follows model and some-time skater Martha-Rose Redding as she pits her boarding skills against two teenage boys. Shot in a seemingly abandoned skate park, surrounded by rich, lush forest, the film's engrossing narrative is suggestive and mysterious. The real stars of the video, however, are the ornately decorated skateboards, that were created as part of the brand's collaboration with skateboard company Écal and done up in Pucci's signature prints.
5. Gucci: The Director's Cut by Glen Luchford

Following an unidentified guest as she explores a mysterious, mid-day dance party that has sprung up in an ornate Italian manor, Glen Luchford's director's cut of Gucci's 2016 cruise collection is strangely mesmerising – and not just because of its trance-infused soundtrack. The film, which stars Allie Barrett, Rhiannon McConnel, Julita Formella and Tami Williams, feels hazy and carefree, capturing the youthful, unconcerned spirit of newly appointed creative directorAlessandro Michele's Gucci woman, as the models dance and twist, blissfully unaware of the sun drenched vistas in a glimpsed outside world.
6. Tom Ford by Nick Knight

This season, Tom Ford eschewed a traditional catwalk presentation in favour of an entirely different format. The designer debuted his Spring/Summer 2016 collection in a Soul Train-inspired video, starring Lady Gaga who struts and gallivants in a variety of Tom Ford ensembles, among a throng of models, including Mica Arga, Lexi Boling, Kayla Scott, Xiao Wen Ju and Lucky Blue Smith. The group dances exuberantly to a new Gaga and Nile Rodgers' version of Chic's "I Want Your Love," produced by Riot City. "Instead of having a traditional show this season, I decided to try something new. I wanted to present a collection in a cinematic way that was designed from its inception to be presented online," Ford told press prior to the film's release.

7. Delpozo by Pablo Maestres

In this visually accomplished film, directed by Pablo Maestres, fresh-faced, doll-like model Mia Gruenwald pursues a bouncing ball in La Muralla Roja, a colourful dreamland off the Alicante region of Spain, which translates in Spanish to "The Red Wall." Gruenwald ambles through a labyrinth of stairs until she finds herself inexplicably drawn to a mysterious Roman bust, which meets an ill fate — a plot twist aptly suited for the Spanish brand, which has been injected with a new youthful, quirky and romantic aesthetic since Josep Font became creative director in 2012.
8. "Meet The Wrestlers of the Pink Lake, Senegal" by Grace Wales Bonner for i-D

One of Britain's brightest new talents, English-Jamaican menswear designer Grace Wales Bonner travelled to Africa's west coast in search of the country's prized fighter. Directed by Harley Weir and styled by Julia Sarr-Jamois, the film delves deep into the world of Senegalese wrestling, where men — wearing Wales Bonner's Ebonics collection — douse themselves in "lucky" goat's milk, chew on string to counteract the "unlucky tongue" and rise at the crack of dawn to train with fellow compatriots down by the Pink Lake of Senegal. We expect no less from the Central Saint Martins graduate, whose unique perspective and interest in black identity and culture has set her apart, a theme the designer continues to explore through her work.
9. Balmain x H&M

Days before the Balmain x H&M designer collaboration was due to drop in stores, H&M unveiled a flashy music video to accompany the 109-piece collection, designed by creative director Olivier Rousteing. Set to dance floor-ready track 'Walk For Me' by Ferdinand & Vaz, model and reality TV star Kendall Jennerstrikes poses inside a roving, futuristic subway car (the same car that can be seen in the backdrop of the brand's campaign print ads) and shakes her hips to a set of choreographed dance moves alongside what appear to be professional dancers — all of whom are dressed in plenty of Balmain's signature whipstitches and beading. The video joins a long list of hype-builders surrounding the collaboration, including Rousteing's gaggle of supermodel soldiers who have teased and touted the collection across social media and on the red carpet.
10. Alexander Wang

Japanese dance duo Aya Sato and Bambi (together known as AyaBambi) have become an Internet sensation by fusing the New York-born art of Voguing with a kawaii cybergoth collar-and-platforms look. They've vogued for Hussein Chalayan and starred in Madonna's 'Bitch I'm Madonna' music video featuring Nicki Minaj. Now, the latest designer to tap the vogueing queens is Alexander Wang. Filmed in black and white, the dancers throw hyper-synchronised shapes on the set of the Alexander Wang Autumn/Winter 2015 ready-to-wear campaign, soundtracked by distorted electronic beats. In the print campaign, Ayabambi strike a pose alongside a chainmail wearing girl gang of models, including Anna Ewers, Molly Blair, Binx Walton, Lexi Boling and Hanne Gaby Odiele.