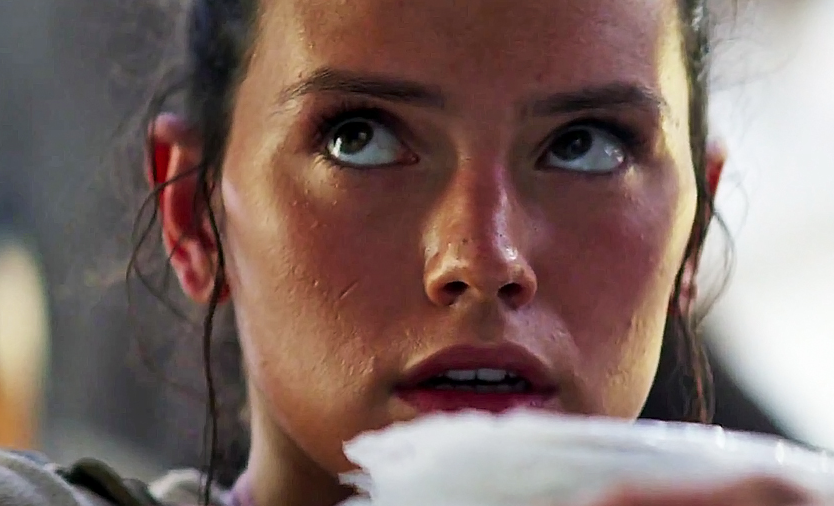 Rey is a scavenger. Rey is a desert rat. She is wrapped against the wind and heat in weathered, mummy-like fabric. She picks through the wreckage of a long-ago battle for anything that could help her survive.
We also know Rey is one of the new lead characters in this journey back to the Star Wars universe, her destiny intersecting with a runaway stormtrooper named Finn (John Boyega) and a Resistance fighter pilot named Poe Dameron (Oscar Isaac.) She wields a blaster similar to the one Han Solo used to waste Greedo in the original Star Wars.
Although everything else about Rey has been kept hidden by director J.J. Abrams and Lucasfilm, we're starting to know more about the character than we do about the actress who plays her, 23-year-old Daisy Ridley – who also emerged from the shadows at the Star Wars Celebration event.
Judging by the photo below, presented last week at that convention's The Force Awakens panel, Rey also hangs around on a collapsed AT-AT, those Imperial locomotives-on-stilts seen trudging through the snowy wasteland of Hoth in The Empire Strikes Back. That's her talking to Abrams while standing on the half-buried leg of one of the mechanical monsters.
After her appearance before a global audience of Star Wars fanatics, and before she slipped away in a Bossk the bounty hunter mask to peruse the convention shops – accompanied by Boyega, disguised in a Clone Trooper helmet – Entertainment Weekly had an opportunity to find out a little about the woman behind Rey.
Here are the basics: she's trained as a dancer and singer, and has previously had small roles on the British TV shows Youngers, Toast of London, and Silent Witness. Recently, she also noticed something unusual in the newest Marvel Studios movie – her old high school was used for a Black Widow dream sequence depicting ballet dancers at the place where the superhero was trained as an assassin.
It's a big galaxy, but a small world.