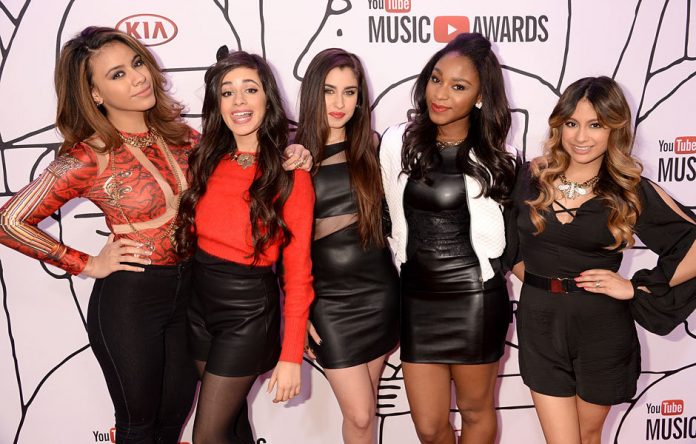 ALBUM PEAKED AT #1 ON ITUNES IN 50+ COUNTRIES; SMASH HIT SINGLE "WORK FROM HOME" #1 ON BILLBOARD POP SONGS CHART
UPCOMING TELEVISION APPEARANCES INCLUDE TODAY SHOW ON MAY 30 AND CMT AWARDS ON JUNE 8
After months of anticipation, chart-topping sensation Fifth Harmony released their highly anticipated sophomore album 7/27 today on Syco Music/Epic Records. The group is celebrating the release with a massive release day in London, spending 7 hours and 27 minutes touring some of the city's most famed landmarks before concluding with a fan event to commemorate the day with their Harmonizers. 7/27 has already peaked at No. 1 on iTunes in more than 50 countries.
Coming off explosive performances of "Work From Home" on the 2016 Billboard Music Awards and their new single "All In My Head (Flex)" on the Dancing With the Stars finale this week, Ally, Normani, Dinah, Camila and Lauren will continue the hype with live performances on the TODAY Show's Citi Concert Series on Monday, May 30 in New York City and a special mash-up with country star Cam on the CMT Awards on Wednesday, June 8 from Nashville.
"Work From Home," the record's first single, has become an instant hit, reaching the top five on the Billboard Hot 100 chart, and just notched the No. 1 spot on the Billboard Pop Songs chart dated June 4. The track, featuring Ty Dolla $ign, previously earned Fifth Harmony their first top 10 hit on the Billboard Hot 100, and is the first song to reach the top 10 from a girl group since 2008; it also reached No. 1 on the Billboard Rhythmic Songs chart, marking the first girl group to top the chart in 15 years. The song is currently #1 on the Top 40 airplay charts.
Critics and fans alike are already praising the album's infectious sounds and powerful themes that Fifth Harmony is known for. TIME noted that the "group's ambitions come into focus on songs about empowerment" and that 7/27 "works best in that mode, as a soundtrack for the #squad era," while Newsday agreed, praising the group for "channeling their 'girl power' into an artistic force."
With buzz for the album building amongst Harmonizers all over social media, Twitter has created an exclusive emoji to celebrate the album's release. The emoji is generated with the use of any of the following hashtags: #727OutNow, #FifthHarmony727, #5H727, #5HNewAlbum, #727ReleaseDay, #The727Era and #727ListeningParty.
The group will be bringing the music of 7/27 and their powerhouse vocals to fans across North America on their 7/27 Tour, kicking off July 27 in Manchester, NH and visiting 30+ cities – including Los Angeles, Brooklyn, Chicago, Boston, Atlanta, Dallas and San Diego – before concluding September 17 in Las Vegas, NV. Tickets are on sale today; more information can be found at http://fifthharmony.co/tourclub.
Fifth Harmony's record-breaking success on the charts adds to an already award-winning 2016, with the group's first-time wins at the iHeartRadio Music Awards and People's Choice Awards, their second win at this year's Kids Choice Awards, and two wins at the Radio Disney Music Awards. Fifth Harmony boasts over 4.5 million followers on Instagram, 3 million on Twitter and 6.7 million fans on Facebook.