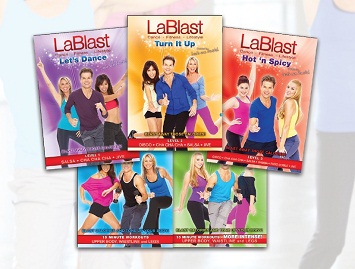 "LaBlast" is a recent fitness video series created by Louis Van Amstel, an award-winning choreographer and TV personality. Each DVD uses different dance styles to provide with you an intense, fun, and effective workout. Louis designed the DVDs to progress in levels. In Level One, you learn basic moves from Cha Cha, Salsa, and Jive before graduating to Level Two, where the energy and intensity are turned up and more advanced moves are incorporated. Level Three completes your new repertoire of dance moves by adding in the sensational dances from Brazil and Spain, the Samba and Paso Doble, to blast you with an advanced workout. The dancing is a disguise for your workout; Louis' infectious enthusiasm makes you completely unaware of the intense aerobic workout you just experienced until afterwards.
"Blast a Move," another DVD that's a part of the "LaBlast" series, takes a slightly different route. This time, Louis uses hand-weights to target muscles for strengthening and toning. This DVD promises to be "more intense, faster, and require more muscle endurance to help you build stamina and strength." However, Louis' trademark dancing is still present, with Meringue, twisting, and Jive mixed in with the weights for a full-body workout that can be completed in as little as 15 minutes.
If you've ever wanted to try a dance fitness class but have been deterred by shyness, crowds, or just the sheer expense of an in-person class, then purchasing a LaBlast DVD may be the best option for you to take. DVDs cost $14.99 each or the whole 5 DVD set can be purchased for $49.99. For more information, visit lablastfitness.com.
By Kylie Jenkins for Clarissa International Media
Like Clarissa on Facebook -Twitter @ClarissaTvMag