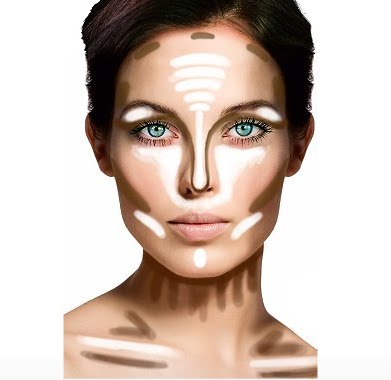 Start by thinking of your face, and its shape, as a blank art canvas. To bring out your natural face shape, you have to start from scratch, creating and outline using shadowing, highlighting, and defining techniques. To get a defined, beautiful outcome, you have to showcase all the features that make you, YOU.
First, you will need some tools of the trade. A foundation that is lighter than your skin tone, foundation that is slightly darker, a concealer brush, a foundation brush, liquid bronzer, an all-over cream highlighter, flat brush for blending.
Step 1- Apply your light shade
Start by dotting on some liquid foundation that is one shade lighter than your natural skin tone in the center of your forehead, on the bridge and end of your nose, under your eyes, and beneath your bottom lip. (You will use one shade darker than your natural skin tone as well to blend them together later on.)
Step 2- Apply your dark shade
Using a foundation brush, dot on the darker foundation around your hairline, temples, the bottom of your cheekbones, and on each side of the nose to create the subtle look of depth and dimension to the areas you want to highlight.
Step 3- Blend the shades to highlight and contour the structure of your face
Mark areas that you want to contour and bring out with a liquid bronzer. (I prefer Benefit brand – Sun Beam golden bronze complexion highlighter, $26.00) Apply to the tip of your nose as well as the sides of your nose, just beneath your cheekbones, along your hairline, your temples, and your jaw-line.
Step 4- Use a highlighter to define
Use an allover cream highlighter (I prefer Benefit brand – High Beam luminescent complexion enhancer, $ 26.00) on the center of your forehead, the top of your cheekbones, the bridge of your nose, and in the center of your chin.
Step 5 – Blend it all together.
Create an air brushed and defined look by using a flat brush to blend all highlights and contours together for a perfect look.
Who says that everyday girls like us can't have cheekbones like a supermodel? It is all in how you do your application. And here behind the scenes, we have the secrets to share with you.