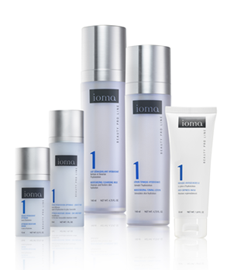 The company's vision is based on three key points, setting it apart from any other brand. First, IOMA is a pioneer in the skincare industry for creating effective treatments for all women who use it. Along with that, the luxury brand is respected for recognizing each woman's individual needs and concerns. And lastly, the company lives up to its scientific principles to ensure that all of IOMA's products are all created equally and with the same formulas.
In order to efficiently create skincare that reflects these principles, the brand has made products for all types of skin. IOMA' s scientifically crafted formulas are created through their selection of the best ingredients and their concentration of active ingredients.
Each face and body product is tailored for a specific skin type or purpose. The line of face products includes treatments that target seven different issues, including everything from UV damage to oily skin. Their anti-aging line features two active bases for day and night and a serum that caters to your personal skin needs. The body products come in three lines for purifying or cocooning your skin or slimming your figure.
Whatever products you choose, IOMA has made sure that it not only gives you results based on your needs, but the brand has also crafted a scientifically-backed product that will give you the same, effective results each time.
For more on IOMA or to purchase, visit iomaparisusa.com.
For more from Clarissa, like her on Facebook at Clarissa Burt Official and follow her on Twitter @asurmedia