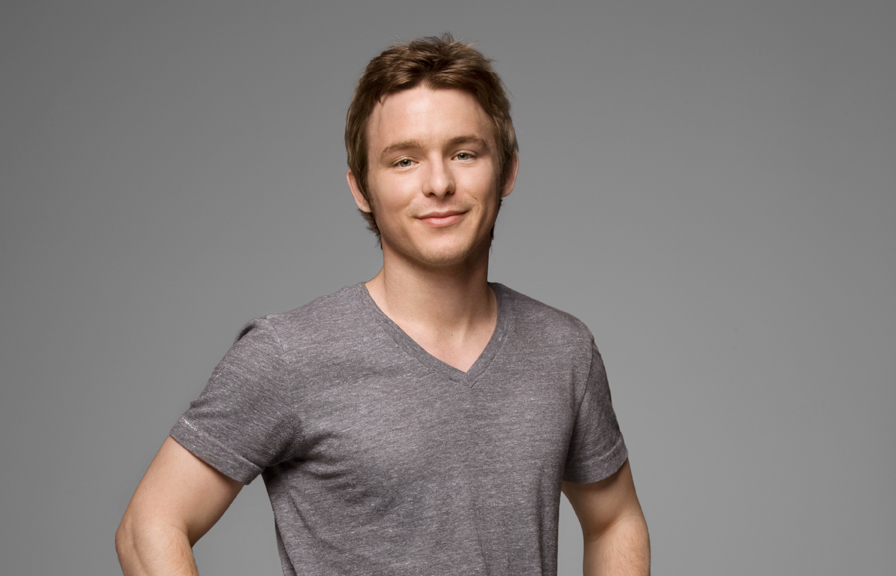 If you ever saw Marshall Allman in public, chances are you wouldn't know who he was, though you would probably think you had met him somewhere. He looks just familiar enough for you to think you were acquainted – a party perhaps, or maybe an old friend from high school. But after the season three debut of the HBO original series True Blood on June 13, 2010, that will all change.
Allman is a fifth generation "Austinite" (as he calls himself) for growing up in Austin, Texas. From a very early age, Allman became involved in both sports and art, though his acting debut didn't occur until the age of 17. Upon graduation, Allman decided to pursue a career in film and moved to Los Angeles. He received work just about as soon as he arrived, appearing in TV shows such as Malcolm in the Middle and Boston Public. After being in California for less than a year, Allman booked a spot in the film Hostage alongside Bruce Willis and Kevin Pollak. Most notably, Allman has been a series regular on FOX's Prison Break, playing LJ, the son of Lincoln Burrows (Dominic Purcell).
In True Blood, Allman plays Tommy, the shape shifting long-lost brother of Sam Merlotte (Sam Trammell). While Allman is a new addition to the cast of True Blood, the mysteriousness and depth of Tommy will definitely shake things up in Bon Temps, Louisiana, making for an interesting and entertaining season.
Runway Magazine: What do you think is the most interesting aspect of True Blood?
Marshall Allman: One of the biggest appeals of True Blood is discovering all these different characters with different powers. When they introduce a new character, it's so much fun to see their powers revealed and explained. They've had shape-shifters, they've had vampires, they've had maenads. Now they're bringing in werewolves and they're starting to explore this whole world of mythological lore.
RM: How would you describe the style in True Blood, in a fashion sense?
MA: True Blood is all about the western, country fashion. But above all, tight clothes. Everybody wears really tight clothes.
RM: And how about your character?
MA Tight jeans, T-shirt, boots.
RM: Is your character good or bad?
MA: I guess I can describe my character as family. Is your family good or bad, or both? I think he's going to come across as love/hate. You will love to hate him or you will hate to love him, but I think people are going to root for him. They're going to see my character, and they're going to want him to be what he can be, which is a good guy. They will want him to be the sincere guy that he is. While he needs a lot of healing, he's not an evil character.
RM: Who is your favorite designer?
MA I wouldn't say I have a favorite. I like to wear things that are simple and classic. Something that makes me feel comfortable and good. I really like vintage, too. I did a slot on Mad Men, and while I didn't get to dress like those guys, I love anything mid-century. I've definitely loved that style for a long time. I don't like my stuff to look like it was cut on a laser.
RM: Do you think some of that comes from your roots in Austin?
MA: Yeah, but it also comes from being an artist myself. When you get in the habit of making things, you want a certain level of sincerity and authenticity of the things that represent you. If you're really making something sincere from the heart—and that's something you do all day and that's what you focus on in your life—you want your clothes to reflect that. You want to feel like its handmade, and well crafted, and that the person who made it cared about it. Like there was something unique behind the creation of it.
RM: Do you ever watch a TV show and like it so much that you want to be on it?
MA: Last year was kind of the sweetest year for me, for that. I got to do It's Always Sunny in Philadelphia, and I got to do Mad Men. I had a blast on It's Always Sunny In Philadelphia though I probably wont be coming back on it, but that show was awesome. I don't know how possible this really is, but they definitely left my character open to come back on Mad Men, which would really be cool for me because I really like that show.
RM: Do you have any movies coming out?
MA: I have a really awesome movie that is going to be hitting theatres in New York for a short run, called the Immaculate Conception of Little Dizzle. That movie is a trip. We premiered at Sundance in 2009 and got a standing ovation. It's just an awesome movie. It's funny and fun and totally out of left field, like nothing you've ever seen before.