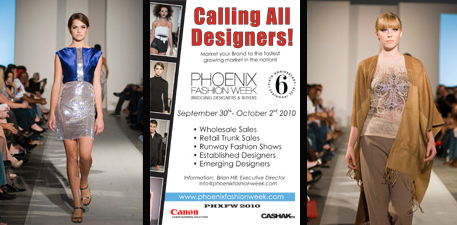 TODAY:

At Phoenix Fashion Week 2009, we experienced over 300% growth in attendance over 2008. We are quickly evolving into "The Resource" for all things fashionable in the southwest, powered by a super team of fashion ambassadors.
Our team is passionate about educating the fashion community, developing young designers, and supporting humanitarian efforts that include Susan G. Komen for the Cure Phoenix, Helping Hands Arizona, and Partners in Malawi, Africa.
You better believe that we are continuously improving our business model while recruiting top designers for 2010. Look for our new "Spring into Fashion Show" @ The W Scottsdale, a poolside invitation only event. This year, expect more trunk sales, more fashion experts, more fashion workshops, more fashion gives back, and of course we will have more seats at PHXFW! Thanks for being in fashion, Brian ~
HISTORY: Established in 2005, Phoenix Fashion Week is based in the fastest growing metropolitan area in the United States. The mission is to showcase talented, established and emerging fashion designers from around the globe.
Humanity- Phoenix Fashion Week currently supports various charitable organizations. Including Susan G. Komen for the Cure Phoenix, Partners in Malawi, an HIV Wellness Center in Africa, and Helping Hands Arizona.
Education- Phoenix Fashion Week hosts fashion workshops throughout Arizona to educate students on the many career levels in fashion. Furthermore, Phoenix Fashion Week recently launched the "Business of Fashion" seminar series for industry professionals.
Thanks to the support of the local community, including high profile residents, city officials, business leaders and the media, Phoenix Fashion Week is already an internationally recognized fashion event.
Fashion. Designers. Retailers, Media. Education. Humanity.
Brian Hill, Executive Director
info@phoenixfashionweek.com