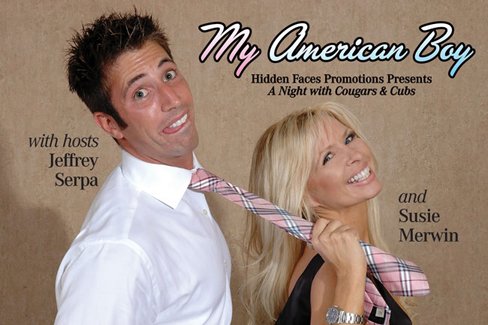 H
ave you ever heard of a cougar? How

about a cub? No, I am not talking about the

animal kingdom. I am talking about an

older woman dating a younger man. Why

is it that so many of us can accept the fact that an older man

can date a younger woman but a younger man cannot date

an older woman?Well, that is exactly what Jeffrey Serpa and

Susie Merwin, founders of AQBanz Productions, discuss in

their innovative documentary "My American Boy" which is set

to premier in the Sundance Film Festival in January, 2009.

The film is set with four cougars and four cubs who

discuss openly and candidly about their experiences in dating

younger men and older woman, the ups, the downs, the sex

and the overall attraction between the two of them. There is

no doubt that some men are fascinated with older women and

some women are enthralled to younger men but what is it that

draws them to that taboo region of the dating arena where so

many of us venture out into? Jeffrey and Susie have set out

to answer this and many other questions with their creative

and unprecedented film.

On October 4, 2008, Jeffrey and Susie did something

that no other cougar and cub film has ever done.They set up

a stage at the Black Card in Scottsdale, AZ to openly discuss

the relationships between cougars and cubs. All of their

volunteer men and women were on stage with them in a talk

show setting where they not only answered Jeffrey and

Susie's questions but the audience's as well.This was a huge

success and brought a lot of exposure to the film. This talk

show experience will be a big part of the film so if you missed

it, don't worry, you can see it again when "My American Boy"

comes out.

Upon meeting with

Jeffrey and Susie, I learned they,

too, were a part of the cougar and

cub population. She is 44 and he

is 23 but you would never know it

if you ever bumped into them. A

funny thing about it all is that they

did not create this film because of

their love for each other. In fact,

when Susie came up with the

idea to produce this film, they

were only just friends and hadn't

even seen each other in a while.

But through common interests, a

strong friendship along with a

growing love for each other they

have come to build a beautiful

and what I think to be a long

lasting relationship with each

other. I would also attribute the

hard work that they both have put

into this film as a team to be another major factor that has

most likely brought them together. They seem to work well

together and have done so in the birth of their "baby".

Balancing between each other's strong points, they have

covered all of the important aspects of film making and have

personally promoted it to an extent that they have become

more and more recognized in the Phoenix, AZ community.

One thing I learned from them is that they have more ideas

in the works and have a dream of one day hosting a talk show

together. If you have ever sat down with the two of them, you

would soon learn that really do make a great team. They

seem to feed off of one another and would surely make a

fresh and impresive talk show duo. I have no doubt that

someday soon we will be seeing a lot more of Jeffrey and

Susie on this and many other projects.

"My American Boy" has been talked about in the

Arizona Republic, on the news and they are talking with the

people from the Tonite Show and would love to be on there as

well. It just goes to show that with a lot of hard work and

ambition along with a great subject that affects many of us

today, we can give birth to something that not only may

change our own lives but possibly help others along the way.

Jeffrey Serpa and Susie Merwin have done just that and I am

sure there are many people out there who would love to thank

you for all of your efforts to bringing to life a subject that is

very real and for some of us, very hard to talk about without

the worry of being scrutinized for a decision that is not always

a choice but a materialization of something special and more

fulfilling than what we have ever experienced before.The love

between an older woman and a younger man also known as

the cougar and the cub.