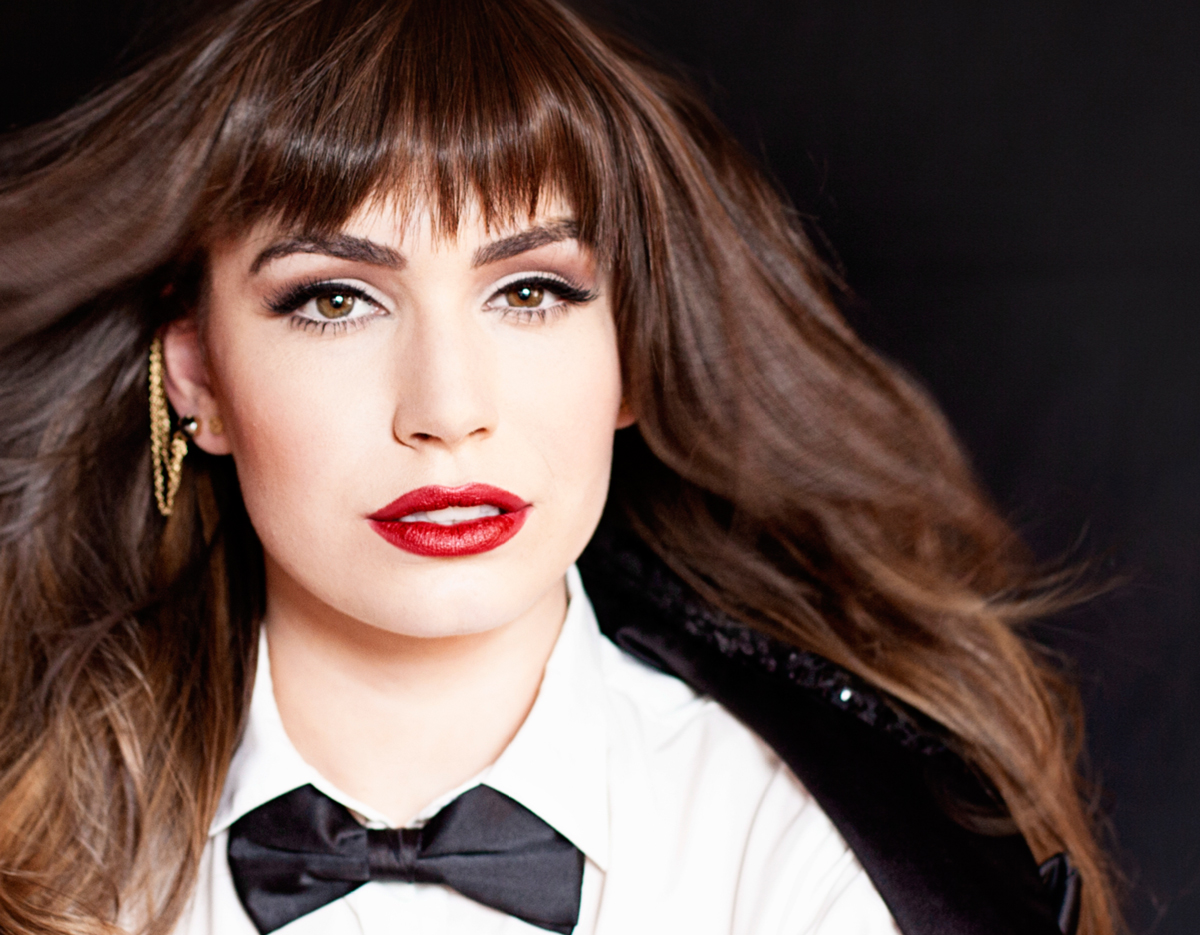 KISS fans are probably the most familiar with Sophie Simmons. Daughter of rock God Gene Simmons and Playmate Shannon Tweed, Sophie practically grew up on camera with the reality show, "Gene Simmons' Family Jewels." There is much more to Sophie Simmons than being a Hollywood kid, though. Sophie is not only a model, fashion designer, singer/songwriter and actress, but she is also a positive role model for body image. RUNWAY loved getting to know this amazing woman, and we hope you will, too!
ENTERTAINMENT
Can you tell RUNWAY readers what it was like growing up in the spotlight? How did it help mold you into who you are today?
I don't think a lot of people are equipped to handle the 'spotlight'. Although, I must say my parents did a pretty good job of keeping my brother and I out of it until we began "Family Jewels". We shot the pilot of GSFJ when I was 11-years-old. I think I was too young to understand what the press or social media was saying at that point. But, I was never a troubled kid. I could have easily gone down a dark road. Drugs and alcohol were plentiful in my friend-group and I just never was curious about it. I think having the attention of a show on me at a young age made me feel like I had to be on my best behavior; in a good way. I didn't want to be one of the girls that I read about in the tabloids. I'm all for having a good time, but I think the 'spotlight' defined having a good time for me as more wholesome fun. I do think, however, that I would have been in a much brighter spotlight if I had gone down the dark path.
You, yourself, are a talented fashion designer. Do you have a favorite item from your Sophie X spring/summer line?
I became a really big fan of kimonos after this spring collection. It was never in my closet before and the girls at The Style Club told me I should give them a shot. So it became a majority of the collection. I think they are flattering on everyone and you don't really size kimonos. I like the idea of not labeling women with a number. Lots of festival inspired pieces. Whites, oranges, browns and blacks. Desert inspired as well and some embroidery. Everything is just loose fitting and comfortable so you can frolic all summer long.
Can you give us any sneak peeks into the fall collection? What color schemes or styles can we expect?
We haven't planned that far ahead to the fall collection. It was supposed to be a three-part capsule, and this spring/summer collection is number three! But you never know! I think my goal has always been to just keep collaborating with brands that have a message that I identify with! So far The Style Club and Diamondére have been amazing and you can see all that on SophieTSimmons.com. Next up, I am really looking into HeyGorgeous!, an online size 8 and up fashion retailer. They are really focused on female empowerment. I'd love to do something with them to highlight the sexy side of women size 8 and over. I'm in that category and I feel a lot of times we are not looked at as sexy.
After appearing on the reality show, "Family Jewels", what made you and your mother want to do your own show together?
We didn't actually want to do another show! It's funny, we were getting a lot of fans on social media asking why we ended Family Jewels. And the answer is, we all got busy. Putting on a show is hard and really time consuming. I wanted to go to college and really do it right. After college ended, we got a request to do a kind of follow-up to GSFJ more focused on what I was working on in fashion, music and the arts. My mom is a big part of my decision making and she's my best friend so naturally it was focused on the both of us. I think we agreed, one season, just to show the fans what we are up to. But since it aired I've been getting offers for a solo show. So it seems I can't get away! And I'm thankful for that. It's work and fun, and I'm happy to do it.
You're also a musician. Can we expect an album in your future?
I think next up is my single release. After that, definitely an EP. I think I am more of a singer/songwriter, but to compete in this world, it's pop all the way. I don't believe an artist should give up so much of their income to record labels and streaming companies, so I'm trying to find an alternative way to do things. Taylor Swift had the right idea pulling her music off Spotify. Artists put so many hours into each song and it's a shame they don't get the credit they used to.
Being in the public eye as an actress and fashion designer/ model, what kind of pressure does that put on you physically and mentally?
There is of course pressure to look put together and in shape. Mentally, it is exhausting to think of your appearance day in and out. I think it backfires on me sometimes because I'll wake up and decide I don't care at all and look absolutely terrible all day. I've never had a "glam squad" to help me get ready and I refuse to spend two hours on my appearance. I have things to do! For some reason if you're on a TV show, or a musician or in the media whatsoever, it makes people think that it's okay to bash on you for taking a comfy sweat pants day. We are still people! It's really hard work to be "presentable" all the time.
When the cameras aren't rolling, and all eyes aren't on you and your family, what do you do in your alone time?
Literally nothing and it is the best. I'm half kidding. I do work other than what you see on the show. I am a brand consultant, model and I run my own children's charity (Sophie's Place). But it is nice to just sit on the couch with a coffee and hang out. I have never been the party gal, so I would love to say that I go out to clubs and dinners but I am really a homebody.
You have a few movies you just filmed. Can you tell us about them and when we will get the chance to see them?
I guess I'm kind of an indie gal. A lot of my projects I choose because I think they would be fun! I love acting and it is a big passion of mine. For now, I am in class and learning to