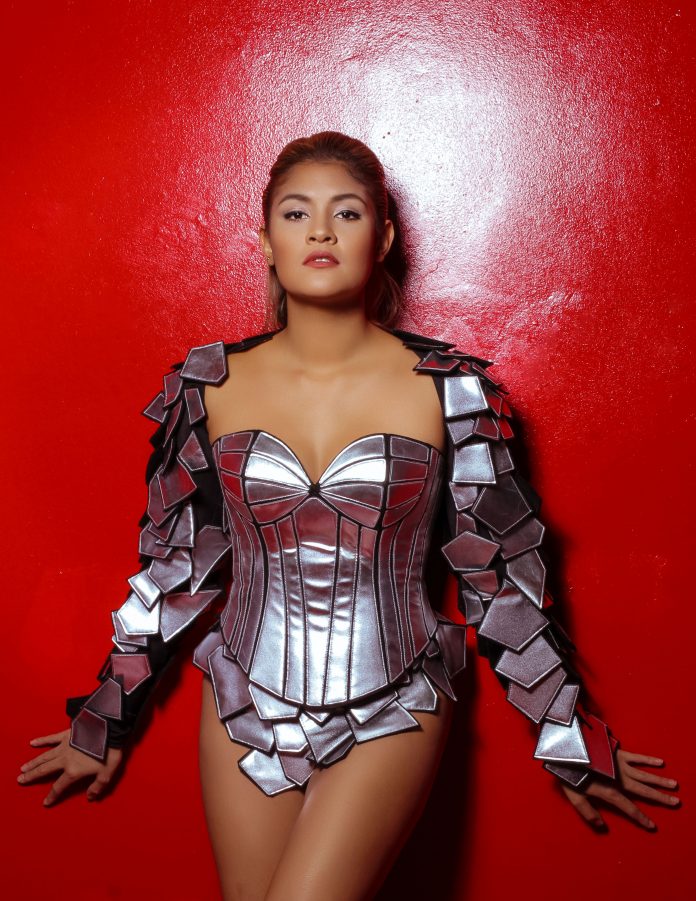 What was your favorite look of the shoot?
I don't think I can settle on just one favorite look. Rocky Gathercole, Resty Lagare and Elie Madi prepared such amazing collections and I was so happy to have had the chance to try each of their pieces on.
Like , I almost didn't feel like myself when I was wearing Elie Madi's black ball gown. It was quite an experience working with each designer!
Who is your favorite fashion designer?
Among the three, I couldn't possibly choose. They are all so different and so talented that I can't really compare them. I would love to work with them again someday soon.
What is your favorite fashion trend?
I'm really drawn to androgynous silhouettes, and unique vintage pieces.
Tell us about your new song.
My latest song "Caught U", which is part of my EP called GREY under Tarsier Records is about catching a partner cheating and not being phased by it. It's about realizing you're better off without someone who takes you for granted.
Who is your favorite singer?
Rihanna, Aaliyah, Jojo, Christina Aguilera, Jhene Aiko are some of the artists I look up to and admire.
What do you do for fun?
I really enjoy the outdoors and being with friends and family, so when I have the time, I do my best to get away from the city life in Manila. When I have the chance, I go to the beach or hike.
Tell us something that most people don't know about you.
I personally think I'm more of an introvert than extrovert. I feel safe being alone with a book, sketch pad or notebook and being able to own my time.
Do you like traveling?
I love to travel. I do prefer warmth over the cold so I usually end up in tropical destinations.
We have beautiful beaches in the Philippines, like El Nido Palawan, Cebu , La Union or Zambales . I'm planning a trip to a beautiful destination in the Philippines called Siargao very soon .
What was your most memorable moment in music?
My most memorable moment in my music career was when I performed my song, "Does She Know" at the MANILA X event in 2017. I'll never forget it because it was the first time I performed the song after it was released. The crowd went wild and sang along with me.
What is next for you?
I'm currently working on my first full length album, so I've been channeling a lot of my creative and emotional energy into my writing. I also have a collaboration coming up with a Filipino clothing brand and I'm so excited because I'll be able to design my own pieces.
Where can we find you on social media?
You can find me on my website kianavee.com and on Instagram and Twitter under my username @Kianavee.
My music is available on Spotify, iTunes, Apple Music, Google Play, Amazon and all major online music outlets.
Link to Spotify: https://open.spotify.com/artist/1DZGAZcaTA32eLJELEsjXY