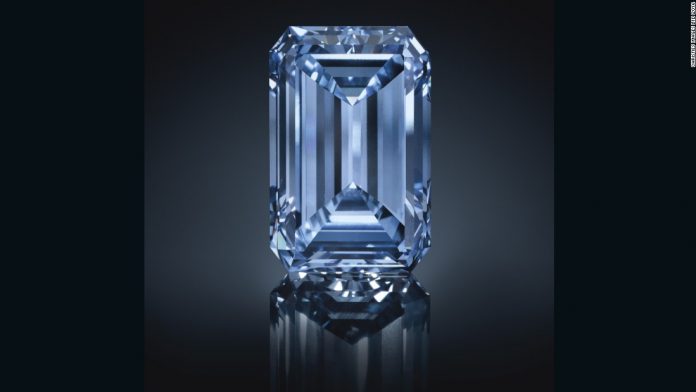 The world's largest blue diamond, an extremely rare gem known as "The Oppenheimer Blue", sold for $57.5 million at Christie's Geneva Wednesday night, making it the most expensive diamond ever to be sold at auction. The sparkling gem sold to a private collector, whose identity Christie's has not yet revealed.
Mounted on a platinum ring and flanked on either side by a trapeze-shaped diamond, the 14.62 carat Fancy Vivid stone is the largest and best quality blue diamond ever to appear at auction. In blue diamonds, Fancy Vivid describes stones that are medium to dark in tone and strong to very strong in color saturation.
It was named after its former owner, the late Sir Philip Oppenheimer, a diamond dealer whose family owns the influential diamond company De Beers. The Oppenheimer steals the title of world's most expensive diamond from the 12.03 carat "Blue Moon of Josephine," which held the previous record at $48.4 million.
That rock was bought by Chinese property billionaire Mr Joseph Lau in November, for his 7-year-old daughter Josephine. Blue diamonds are exceptionally rare, comprising only around 0.0001% of the world's diamonds, according to Christie's. Of this tiny fraction, only about 1% are classified as Fancy Vivid, helping to explain the Oppenheimer's wallet-melting price tag. They are second in rarity only to red diamonds, of which there are only around 100 known record stones in the world. The Oppenheimer's record-breaking sale comes a day after the 15.38 carat "Unique Pink" sold for $31.6 million at a Sotheby's auction in Geneva — the highest price ever paid for a pink diamond of that category.