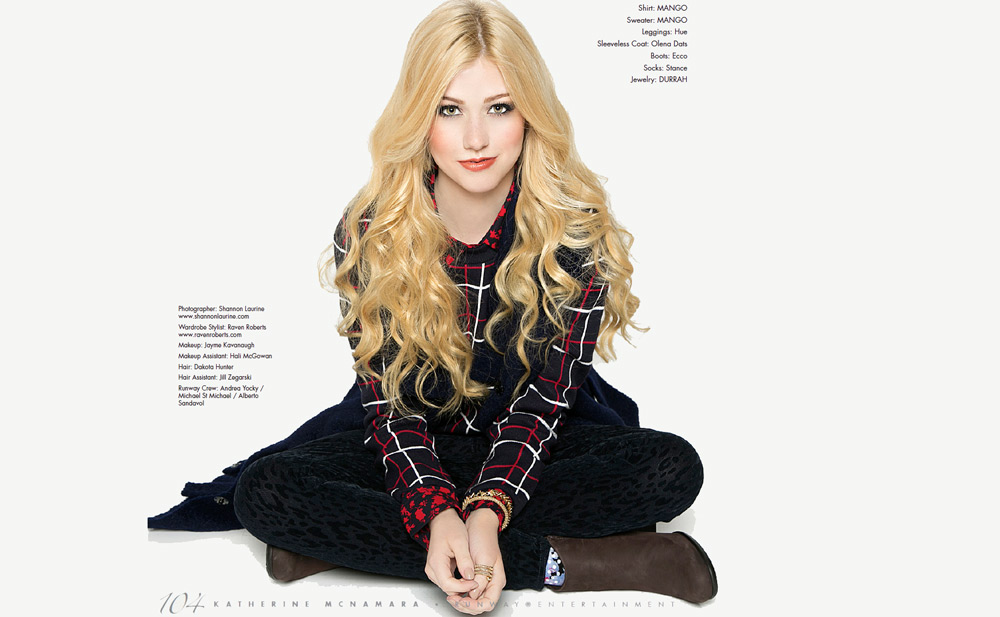 Katherine McNamara was born to entertain. Taking to the Broadway stage at thirteen alongside some of the most accomplished actors of our time, this powerhouse of a performer quickly hit it big in television and film with her multi-talented repertoire of dancing, acting and singing. She's vivacious, sincere and a great inspiration for young women. Now on MTV's Happyland, Katherine takes a few minutes out of her amazing life to talk about what it means to'fangirl out,' top fashion accessories of the season and what's on her bucket list.
I remember seeing you in Girl vs. Monster and thinking, "Wow! That girl can sing!" How old were you when others started to realize what a rare talent you possessed?
I actually fell into this career backwards! I never expected to become an actor, I wanted to be an economist! I was a ballet dancer and a softball player but I happened to run into a family friend who was directing a community theater production. She needed a few dancers for the show and asked me to come audition. I was the kid who would try anything and it sounded like fun so I went for it, just to see what would happen. I ended up being cast in the show and I fell in love. I know it sounds corny, but the moment I stepped on stage on opening night, felt the lights and the energy of the audience, I knew this is what I had to do for the rest of my life. It hit me like a brick wall!
Your career actually started when you were extremely young, working on Broadway. Was it always your goal to transition from the stage to the screen?
It was not, actually! I loved stage (and still do) and truly never even intended to leave Kansas City, where I grew up. Once I ended up in A Little Night Music in New York, that was my new world. I took to the city like a fish to water and once again, never thought I would leave. Now that I have transitioned to including film and television into my career, I now know that I truly love every aspect and medium in this industry. I feel the most successful and fulfilled when I can keep working on different projects in different media. It keeps me learning, growing, and on my toes.
You've worked with some really inspirational actors in film and theatrical history, including Angela Lansbury and Bernadette Peters. Who have been powerful influences in your life?
So many people have been influences on me in my career. The most influential to this point are the four legendary women I worked with in A Little Night Music – Catherine Zeta-Jones, Angela Lansbury, Bernadette Peters, and Elaine Stritch. Catherine is the epitome of a glamorous movie star. Everything she does is with grace, kindness, and generosity. Also, she is one of the most beautiful women I have ever seen in my life. Bernadette is just amazing at what she does and is so very kind. She also has the most amazing skin and shared a few of her secrets with me. Angela allowed me to explore and play in our scenes and taught me not to be afraid to take a chance on a choice if it feels right. She has this gentle strength with an underlying current of positivity that I will never forget. Elaine Stritch was a pure firecracker. As spunky as she was talented, she had some one-liners that were enough to make even the most morose person bust up laughing. She had the greatest stories about life and the industry which became parables for me to teach me life lessons I will always keep with me. I will never forget these women and all that I learned from them. Every day, I aspire to be more like them and to make my career last for the rest of my life.
So from Disney to MTV, you now play Harper on Happyland, can you tell us a little bit about the show and your character?
Yes! Happyland follows the story of a group of people working at a theme park of the same name. Irony abounds in Happyland as nothing happy ever happens there – pretty much everything that could possibly go wrong for the characters does. Not only are they dealing with normal teen drama, they are slapped with the craziness of keeping the park running smoothly! Chaos ensues in this dark comedic look at the underbelly of a family theme park. I play Harper Munroe on the series. She is this fun, flamboyant girl who loves to live life in the moment. She is not afraid to take chances and make mistakes. She is extremely boy crazy and has no gauge of the consequences of her actions – a dangerous combination that often leaves her cleaning up messes she makes for herself. At heart though, Harper is a fiercely loyal friend with a big heart who will fall hard and fast for just about anyone who invests their time in her. She has some difficult choices to make throughout the series, but always seems to weather any storm with a bit of grace and a great pair of shoes.
Your style is impeccable! Who are some of your favorite designers this season?
Oh thank you! You are too kind. I love fashion. I think clothing should be an outward expression of who we are on the inside and how we are feeling that day. There are so many possibilities for styles and looks that I think people should embrace that and take chances to really find their own unique style. Some of my favorite designers and brands this season are Aritzia, Wildfox Couture, Ted Baker, BCBG, Alice and Olivia, Marchesa, Monique Lhuillier, Herve Ledger, and Valentino.
What has been one of your favorite moments or interactions with a fan?
Because I worked for Disney Channel on several projects, I get recognized quite a bit by little kids which is pretty much the most adorable thing ever. I love seeing their reactions when they see my face or hear my voice, it's just so cute. One of my favorite instances, I was at a fair with Olivia Holt right after Girl vs. Monster premiered a few years ago. These two little girls came running up to Olivia and told her how much they loved the movie and started singing the songs. Then they looked up and saw me. I never knew how kids would react to me in the film because I play such a mean character. These girls were silent all of a sudden, just staring up at me and I was starting to get worried. Then they gave me the biggest hug I have ever seen a little kid give. They latched on to me and would not let go. It was simply the cutest, and one of my favorite fan experiences, to date.
You've acted in everything from Glee to Law and Order to 30 Rock; have you ever had any "fangirl" moments when you walked onto a set with other actors?
Actually, I have had those moments, but I keep it internal. I always keep it professional on set but there are times where inside I am completely fangirling out. Funny you mention Glee because that was one of the occasions. My scene was with Lea Michele and she is one of the people I aspire to follow in their footsteps. Her voice is so killer and she's had such success in theatre and film! I had to be very unkind to her in the scene and I felt so bad! I did it though and she was super sweet about everything so it was a lovely time! Not only did I work on the set of 30 Rock but I visited a few times with Elaine Stritch while I was working with her. Every time I saw Tina Fey, my heart would skip a beat. She is so brilliant and multitalented, I am in utter awe of her. She's a real class act as well. The first time I was there, I met her once briefly and every time I was on set after that she took the time to say hello and call me by name. I was really quite impressed. One of my favorite and most unexpected experience of this sort was when I was doing ADR (the process where they bring actors in to fix the audio on their lines if needed) for New Year's Eve. Everyone, and I mean everyone, was in that movie so I didn't know who I would see around my session time. To my surprise, the person who had a session directly before mine was Cary Elwes – none other than Westley from The Princess Bride. That is one of my all time favorite films, so I was so thrilled to meet him. He was so kind and we actually chatted for quite a while!
What kind of a training schedule do you have to maintain to keep your dancing, acting and singing on point at all times? You must be extremely disciplined.
Well I wish I had time for a true training schedule, but I do try and make it to dance class as often as I can. Dancing is such a relaxing and refreshing experience for me. It is something I have done and enjoyed my whole life so it has become my escape and my safe haven. If I'm having a bad day and just need a break for a few hours, I can take a few dance classes and feel like a brand new person after. I just feel better physically and emotionally when I dance, it clears my head and gives me a chance to think through any decisions or other things I am going through at the moment. I do train in singing as well. It is another passion that has come with this industry. I am currently working on my own music and am in the studio whenever I am not on set! Stay tuned for more of that coming soon.
I am extremely disciplined. I think a lot of that comes with my internal drive and focus. I am aware that there is always room for self improvement and growth so I am always on the lookout for those opportunities. I am also extremely dedicated to my education and have always been self motivated in that respect. I graduated High School with honors at age 14, received my Bachelor of Science in Business Administration Summa Cum Laude at 17, and am now working on a Masters degree in Business and Applied Economics.