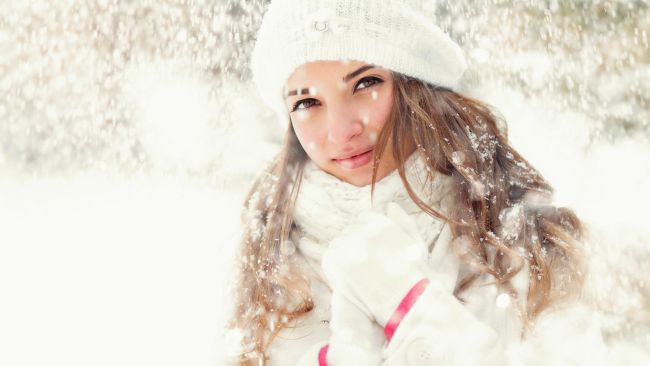 Wonderful Winter Skin Step 1: Swap your harsh, oil-controlling cleansers for a milder formula. One like Cetaphil Gentle Skin Cleanser is ideal because it is mild and soothes skin while it washes. Swap out your soap or body wash as well; you'll want to pick one that is rich in vitamins to promote healthy, moisturized skin over the course of the winter season.
Wonderful Winter Skin Step 2: Exfoliate, exfoliate, exfoliate. We often forget this step no matter what the season. Dead skin cells that are not exfoliated away sit on top of our skin and don't allow proper absorption of skincare products. Skip rough, abrasive scrubs and exfoliators and stick with one like ExfoliKate Gentle, which uses micro beads and natural fruit enzymes to gently exfoliate dead skin cells away. You can also use a soft washcloth, using it to rub your cleanser in circular motions while in the shower.
Wonderful Winter Skin Step 3: Drink away….water that is. Skip the soda, say no thank you to the second cocktail and instead, replace it with more water. Drinking water is key to keep your body hydrated from the inside out. We naturally drink less water in the winter, which causes our skin to be dehydrated. So, even when you are not thirsty, drink up. Still having trouble taking in the recommended amount of water per day? Try a cup of hot water with a squeeze of lemon or lime. You will get the benefits of hydration while warming up at the same time.
Wonderful Winter Skin Step 4: Slather on a rich moisturizer. The ideal winter moisturizer is slightly heavier than your summertime version. One we like is the Lumene Bright Now Vitamin C Night Cream, which helps to not only hydrate skin while you sleep but brighten it too. Your body moisturizer (yes, you should be using one daily) should also be amped up for winter. Slather it on after you step out of the shower while your skin is still damp to lock in all that moisture.
Wonderful Winter Skin Step 5: The struggle of chapped lips is real and becomes oh-so-apparent during winter when our pout is exposed to all the elements while our body gets covered up in cozy sweaters and boots. Use a balm or ointment, rather than a chap stick, on lips regularly to keep them moist and protected from dry winter air. Avoid licking your lips at all costs, it causes dehydration which also equals dry, chapped lips.
Wonderful Winter Skin Step 6: The sun isn't shining but that doesn't mean you don't need sunscreen. A leader in the skincare industry, The International Dermal Institute suggests wearing a sunscreen year-round. Worried about breakouts? IDI suggests purchasing a non-comedogenic (this means it won't clog your pores) sunscreen. They also recommend getting a double-duty sunscreen product, like ones that are incorporated into your daily moisturizer. Then you can skip the extra step required to put on sun block.
Wonderful Winter Skin Step7: Remember that your scalp is skin too. Our scalps are often forgotten about when taking care of our skin, but scalp issues rank high in winter skin complaints. Dry, itchy scalp and dandruff are two common issues in the winter. Hit them head on with an ultra moisturizing shampoo and conditioner and then use a product specifically designed for the scalp. Hair care experts at the award-winning Carol Carey Couture Salon in California, recommend Kerastase Initialiste, a skincare-inspired serum specifically for the scalp.
Wonderful Winter Skin Step 8: When in doubt, check with an expert. If your skin doesn't seem to be responding to winter well and you develop excessively dry or cracked skin, a visit to your esthetician or dermatologist may be in order. One of these skin care specialists can help direct you towards the perfect product regimen for your skin this season.