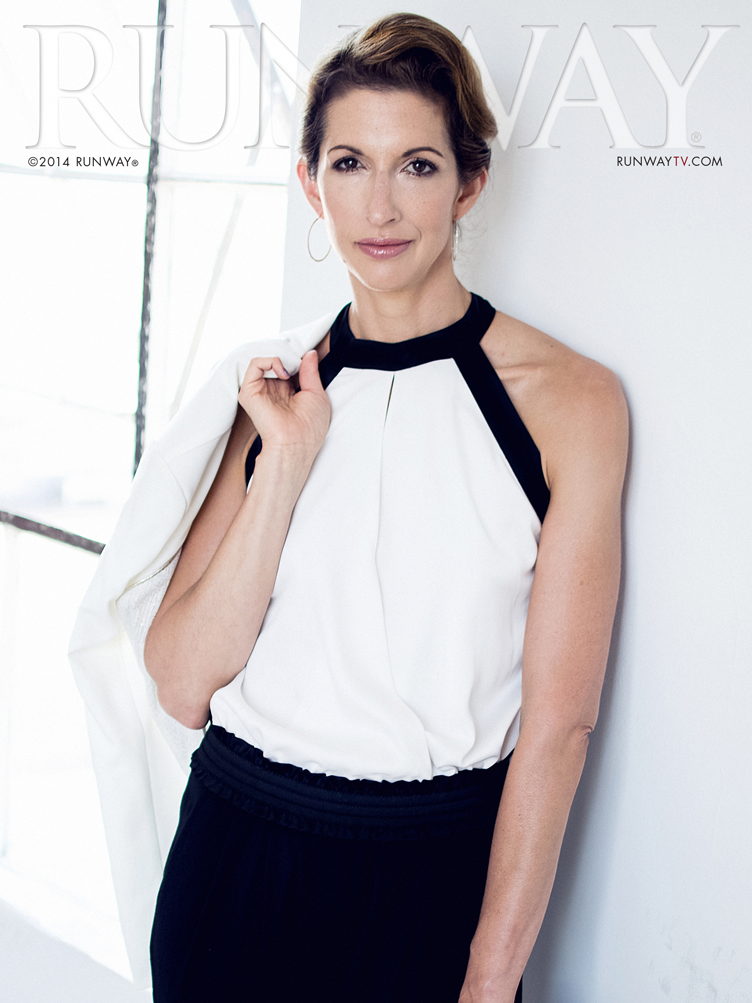 You play Natalie "Fig" Figueroa on Orange Is the New Black, the one character I simply had no sympathy for and then BAM, you made her vulnerable & human out of left field! What is it like playing an essentially unlikeable character?
First of all, thank you for the compliment! I am so glad you saw her humanity & vulnerability, not just unlike-ability. I think playing someone like Fig has given me courage to be ok if not everyone likes me. I'm working on How To Get Away With Murder and was just talking to the spectacular Viola Davis today about that; about the courage, as both human and character, to be ok if not everyone likes you, and teaching our daughters that. The great news is fans seem to love Fig and are so generous with their praise & gratitude.
How do you feel this show is redefining not only female roles in film & television, but the female identity in today's culture?
It is a gift beyond measure to be part of something so groundbreaking. I think anything that makes us look deeper into how we are treating one another, the female role in our culture today, and how we can change that, is spectacular and so needed. Jenji and the whole writing team do a genius job of it!
If you could switch places with any other character on the show, what role would you pick & why?
Suzanne – "Crazy Eyes". It would be incredible to see the world through her eyes. I am so fascinated by mental illness and what it would be like to experience something like that.
As Fig, your style is all business paired with a killer pair of shoes, what is your personal style like?
My personal style is so eclectic. I love a simple white t-shirt and jeans, bohemian hippy dresses, modern vintage and of course, I love couture!
If you could take home one item from Fig's wardrobe to keep for yourself, what would it be?
Her Mercedes.
You are a veteran pro of acting with roles on stage as well as television and film. What has been the most epic role of your lifetime or have you not had it yet?
Wow, Epic? I think every role hopefully helps you grow and teaches you new things, and is epic in that way. I mean come on; don't you feel your life is epic sometimes? I have been blessed to play some incredible women with truly epic stories. Writer Virgina Woolf and artist and activist Tina Modatti, I think both changed the world in ways such as art, politics and feminism and I am beyond lucky to have portrayed them and gotten to touch their soul in that way.
You are sort of an advocate for everything cool & healthy, from breastfeeding to environmental issues to charities. What are some of your favorite causes and how can we get involved?
Thank you so much for asking! I love helping the Women's Prison Association. I think if Fig won't help women in prison, I will! I designed a locket with Kira Kira and 100% of the proceeds to go the WPA! I also work with The Cancer Support Community & made a film where 100% of the sales go to CSC.
With being a mom, an actor, an activist, a philanthropist and a wife, how do you prioritize what is most important in life?
Being a mom is first, always. But I am always teaching my daughter the importance to serving the world and having work that you love, that you feel serves too.
I hear you have been selected by IMDB as one of the top three picks to be the next bond girl. Who was your favorite bond girl & what would you love to bring to that franchise?
Great question! I would have to say Pussy Galore just for the name. I loved watching James Bond with my dad when I was a kid. He is such a heroic character, I love that he never took himself too seriously.
You've got quite a few projects coming up including The Networker, The Other Side, Ava's Possessions, No Letting Go, The Girl in the Book, Primrose Lane & more. Can you give us a sneak peek at what fans can expect?
I am also about to appear on two fun TV shows. Prepare to see characters nothing like Fig!
Your home has been featured in magazines & TV for being green. Do you have any tips on how can we take steps to be green in our daily life & habits to live healthier?
I think #1 is being aware of your water and electricity use and recycle! We both compost and recycle and you would be shocked how little garbage we have. Reuse/Reduce/Recycle. The little steps can make a huge difference and save you money too.
You have recently been named as a "woman to watch" by New York Women in film and television. Congratulations to you – what an honor! What is it like being such a strong role model to women everywhere?
I am so honored by this and that the WPA awarded me the '2014 Sarah Powell Huntington Leadership Award'. As amazing as it is to win awards as an actress, to be given an award saying: we value the woman you are, your inspiration and what you bring to the world is… well I am speechless!
If you could create your own show, what would it be about and who would you cast, dead or alive, to work alongside you?
Wow, another amazing question! I would make a mockumentary about the yoga community in LA. Sort of like a mighty wind but about Yoga and the new age world. I would have everyone in each week with amazing new guest stars, including George Clooney and George Burns and Einstein.
Do you have a beauty or fitness routine that you follow?
I work out– it is my anti-depressant and I love to change it up. Now I am working once a week with a new trainer, who I love, Jason Wimberly! He kicks me to the curb and teaches a spin class that I love too. I am obsessed with coconut oil and all its amazing beauty benefits. My new favorite line is Sircuit and their Oraia.
So other than the amazing amount of new films you have got coming out, what is next for you in this adventure of life?
I just finished shooting an episode of Hawaii 5-0 in Hawaii!
For more information on the charities Alysia is involved with, visit:
www.kirakira.com/products/WPA-Limited-Edition-Locket.html
www.cancersupportcommunity.org
www.speedgrieving.org
www.ywlcs.org
www.healthychild.org
www.say.org
Published in the Fall 2014 Runway