These adorable ASPCA Vans show your puppy love while keeping your awesome style. Pair these with a military jacket, tank, and skinny jeans to show you have a bit of an edge on top of that warm heart.
Get the Look: ASPCA Slip-on Shoe $55 www.vans.com | Black Skinny Jeans $45 www.salsit.com | Velvet Ruby Army Jacket $165 www.calypsostbarth.com | 3.1 Phillip Lim Muscle Tank $195 www.lagarconne.com
These adorable purple Keds are simple, but fun. Match them (or any color you want) with a plaid skirt, jeggings and a cardigan for the ultimate back-to-school look.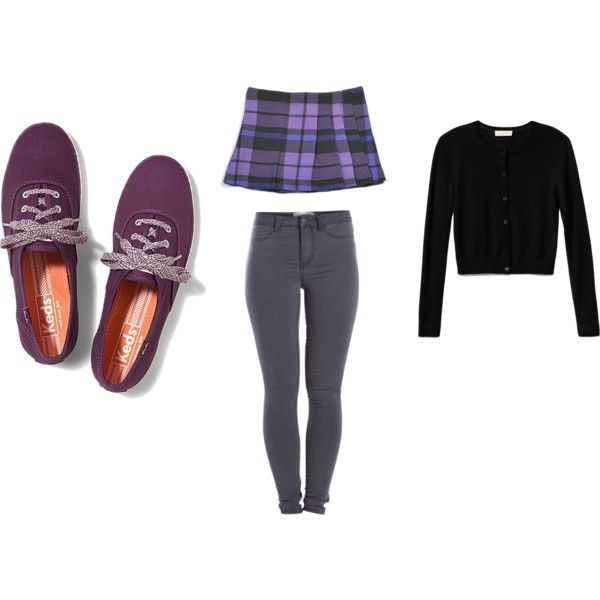 Get the look: Keds Champion Sweater Lace Shoes $45 www.keds.com | Pleated Plaid Skirt $182 www.sammyandclaire.com |Grey Slim Stretchable Jeggings $47 www.pieces.com | Tory Burch Petite Simone Cardigan $105 www.toryburch.com
There used to be a ton of rules about not mixing patterns and certain colors. Forget the rules! This year, dots can go with stripes and colors can be totally off the wall. Without tossing all the rules out the window, we've paired these black & white striped Keds with a bold red skirt, black & white muscle tank, and to throw people for a loop – an open blue cardigan.
Get the look: Keds Champion Pop Stripe Shoes $50 www.keds.com | Dark Red Textured Jersey Tube Skirt $22 www.newlook.com | LA CA Cross Muscle Tee $13 www.2020ave.com | Vero Moda Batwing Knitted Cardigan $47 www.veromoda.com