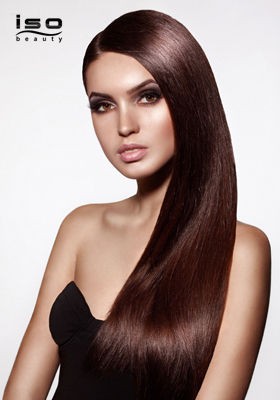 The ISO Spectrum Pro Series flatirons contain 100% long-lasting solid ceramic plates to reduce the hair's exposure to heat. These flatirons do not damage the hair, but instead leave it soft and shiny through infrared technology. The infrared technology locks the natural moisture from the hair and brings it to the surface, giving the hair a luxurious shine. The ISO Spectrum Pro Series also features built-in floating places to create waves and curls, making this flatiron a versatile and complete styling tool.
The ISO Turbo Lines feature hair straighteners with plates made of tourmaline, a natural source of negative ions that reduce the risk of damage to the hair. The results are astonishing; the hair is left smoother, softer and shinier due to the special tourmaline plates. The Turbo Line is offered in a convenient and highly versatile 1'' size perfect for a variety of styling options.
The Keratin Pro series features Tourmaline Titanium Ceramic Mix technology that distributes the heat quickly and evenly over the plates. This technology leaves the hair healthier, with less damage to the hair cuticles. The Keratin Pro combines the best of the ISO Spectrum Pro Series and the ISO Turbo Lines by combining the benefits of both ceramic and tourmaline plates. This advanced series allows the user to easily achieve the desired style while protecting the hair and leaving it healthy, shiny and soft.
ISO Beauty also offers products like the ISO Twisters, the Omega Flat Iron, the Rolling Styler, their complete line of Ionix Hair Products and more. For more information, visit isobeauty.com.
By Jennifer Na for Clarissa International Media Group