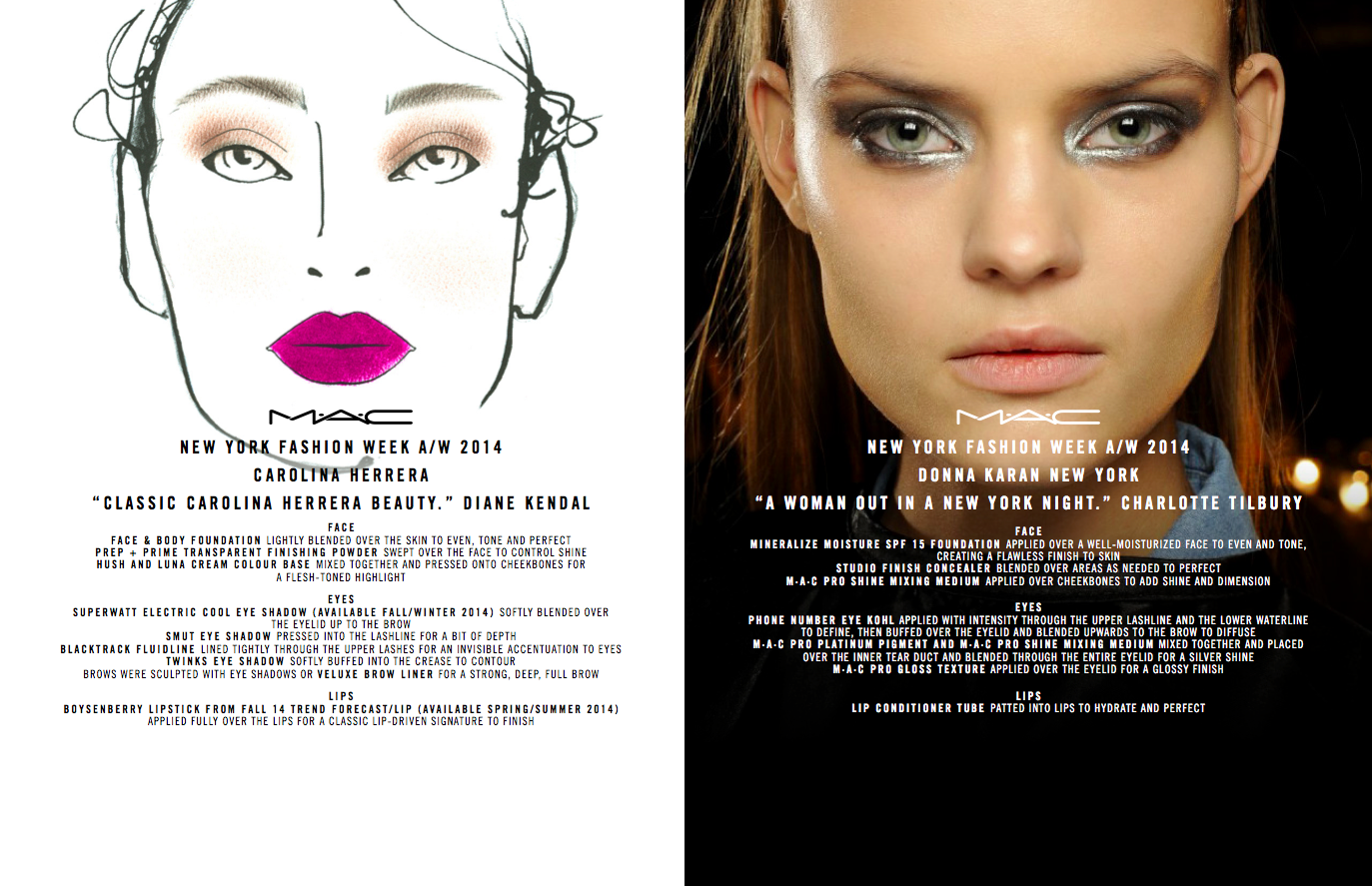 For bold and dramatic designers such as Carolina Herrera and Zac Posen, MAC matched the 2014 runway designs with skin, eyes and lips that stood out on the runway.
For the Carolina Herrera show, Diane Kendal said MAC channeled "Classic Carolina Herrera beauty." Dramatic Superwatt Electric Cool bronze eye shadow was smeared on the eyelids, while vibrant boysenberry-colored lipstick brought attention to the lips.
Charlotte Tilbury said the Donna Karan New York MAC look was inspired by "A woman out in a New York night." MAC Pro Platinum Pigment made the eyes pop with dramatic metallic tones. MAC Shine Mixing Medium added shine and dimension to the models' cheekbones.
The Ohne Titel beauty look was the "Portrait of a Woman: Futuristic feel to the skin, metallic balmy, doe-eye, eyeliner…sexy but subtle," according to Lucia Pica. Luna Cream Colour Base created a pearlized, glossy texture to the models' skin and eyes. Diva Lipstick was added to the lips to add a soft, sheer touch of color.
For the nails, MAC opted for "Tactile matte textures and graphic chrome lines…the nails were inspired by the use of multiple textures; synthetic and natural materials from the collection," as told by Keri Blair. Silver and gold mylar stripping tape produced reflective chrome lines around every nail, and Matte Topcoat Studio Nail Lacquer was applied over each nail for a finishing touch.
The naturally beautiful look dominated The Row's runway, with "Clean natural skin with a soft glow and contour" making an appearance, said Tom Pecheux. Light foundation and MAC Pro Mid-tone Sepia Cream Colour Base created a soft highlight of the cheekbones and eyes. Close to you Lipstick was applied to emphasize the understated nude look.
A theme of "Wicked nuns…pale skin with stern brows," according to Sil Bruinsma, the Thom Browne fashion show MAC makeup look uniquely utilized white face and body foundation to create ivory skin. Meanwhile, mudged eyes with thick liner made the eyes stand out. A lightly drawn line above the eyebrows portrayed a "stern" expression for the show.
What Kabuki calls "A deconstructed take on 1940s glamour with a punk edge," the MAC beauty look for the Zac Posen show used bright orange-red lipstick and a velvety concealer. To finish the themed look, MAC used a mascara fan brush to design an artful sweep of black horizontal lines across the eye.
By Stacia Affelt for Clarissa International Media Group
Like Clarissa on Facebook Twitter @ClarissaTvMag