I guess her way wasn't so crazy after all. Hitting just shy of one million sales her first weekend, her strategy, though risky, was on point with her end goal. The world is still buzzing over its release, and Runway is here to bring you the scoop on the fashion seen within the 17 spectacular videos that complemented the project.
A team of six strong, the fashion pros styled B into looks varying from 'Beyoncé from the hood' to the most glamorous couture pieces we've seen B rock thus far. Stylists Ty Hunter, Karen Langley, B. Akerlund, Racquel Smith, Marni Senofonte and Lysa Cooper were all brought aboard to create one-of-kind looks that transformed Beyoncé into every character she dreamed of playing when portraying each song.
The album opens with the mid-tempo anthem "Pretty Hurts". In the video, Bey transforms into a retro beauty queen wearing a bold yellow Norma Kamali bathing suit. Later she reappears during a beauty-queen meltdown, and although she is throwing a tantrum submerged in water, she still appears ravishing in a deep V-neck, blue beaded Georges Chakra gown.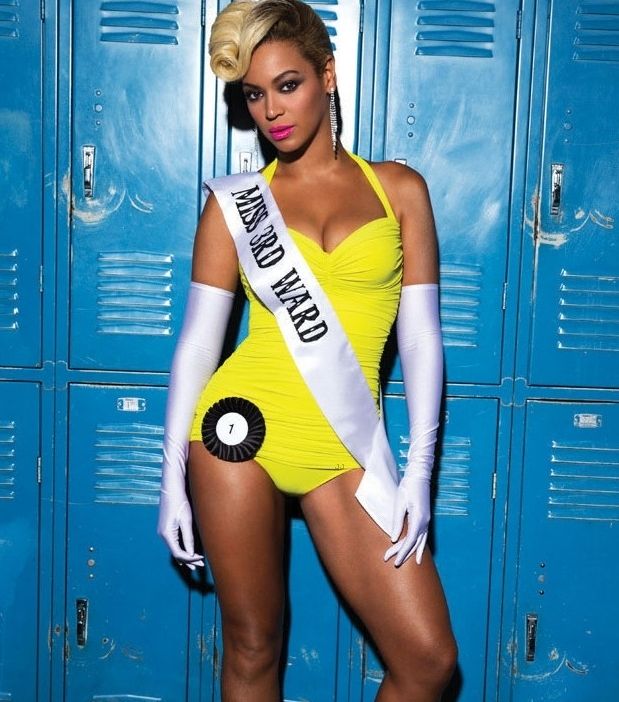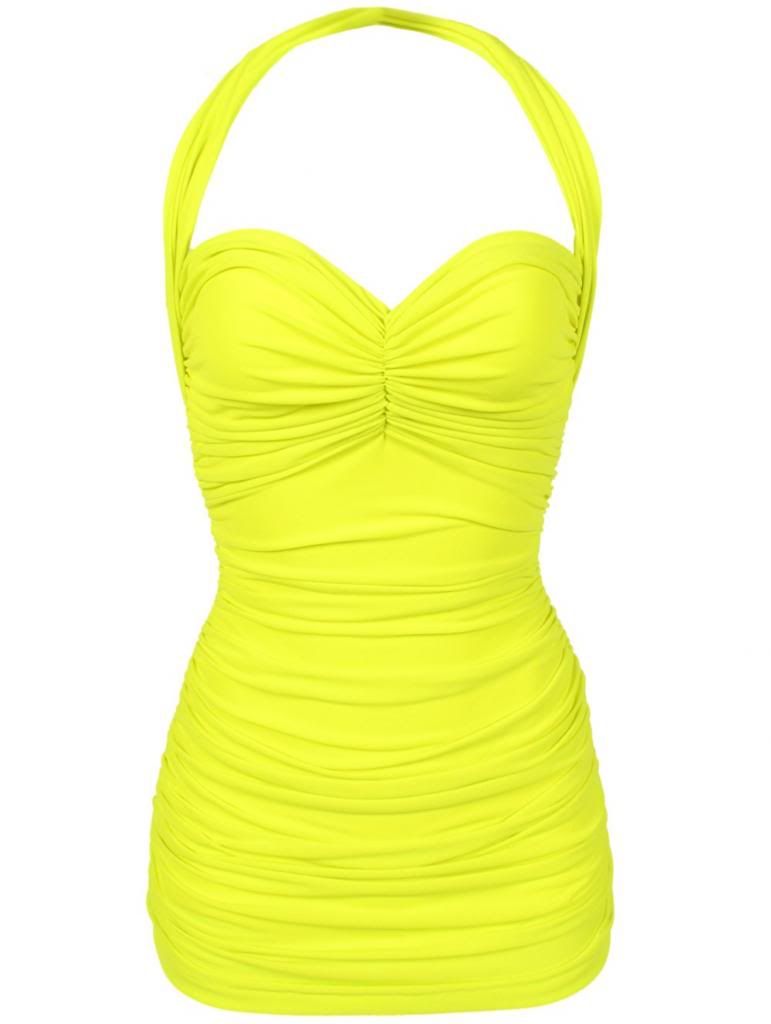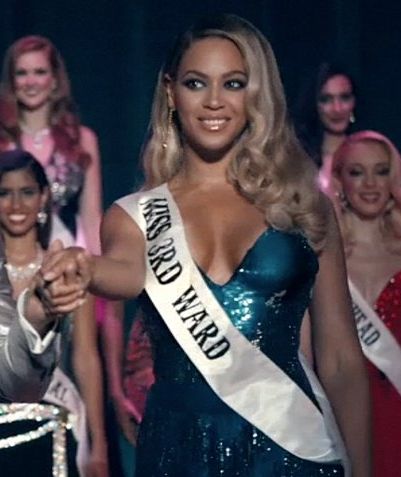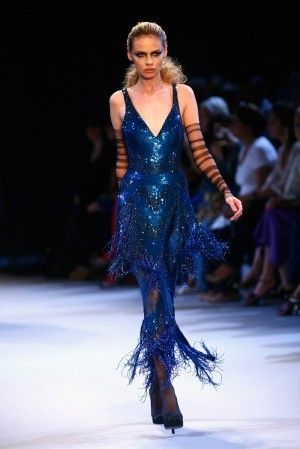 For "Haunted", an eclectic urban track, she debuts one of the most dramatic, almost Madonna-esque, looks of the entire project and we are in love with the whole thing. Dark, dramatic makeup compliments the finger waves she dons with Russian designer Ulyana Sergeenko's silk jumpsuit in black and white. The lavish mansion backdrop leads us to wonder if this is what a Friday night at home looks like for the Carters.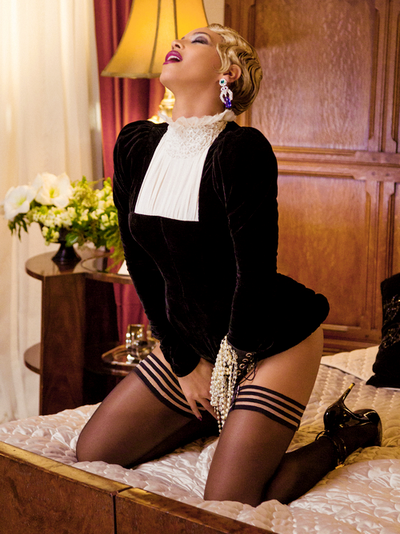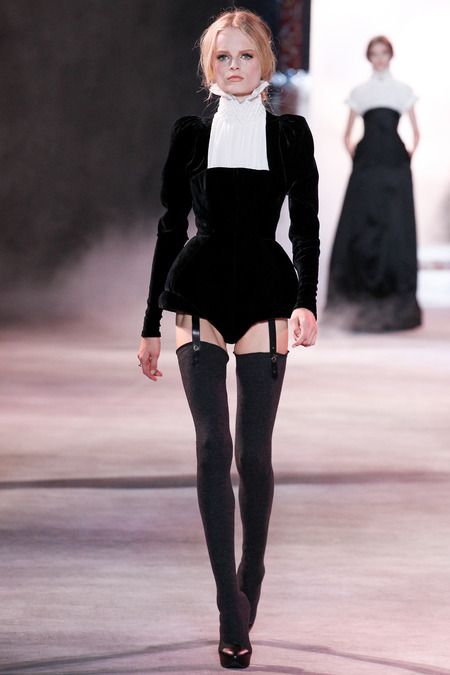 "Drunk In Love" is a duet with none other than Mr. Carter himself. The video is a gorgeous black and white visual of their love and her wardrobe is limited to an itty-bitty vintage Eres black bikini covered by a sheer dress by Wendy Nichol. Jay-Z himself was insistent that she keep it simple and ditch the wardrobe changes, Bey also brings out her rapping skills for a verse. The smoky eyes and simplicity of the sandy beach backdrop heighten the sensuality of an already hot video.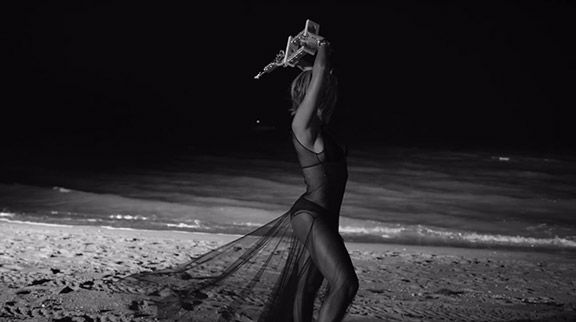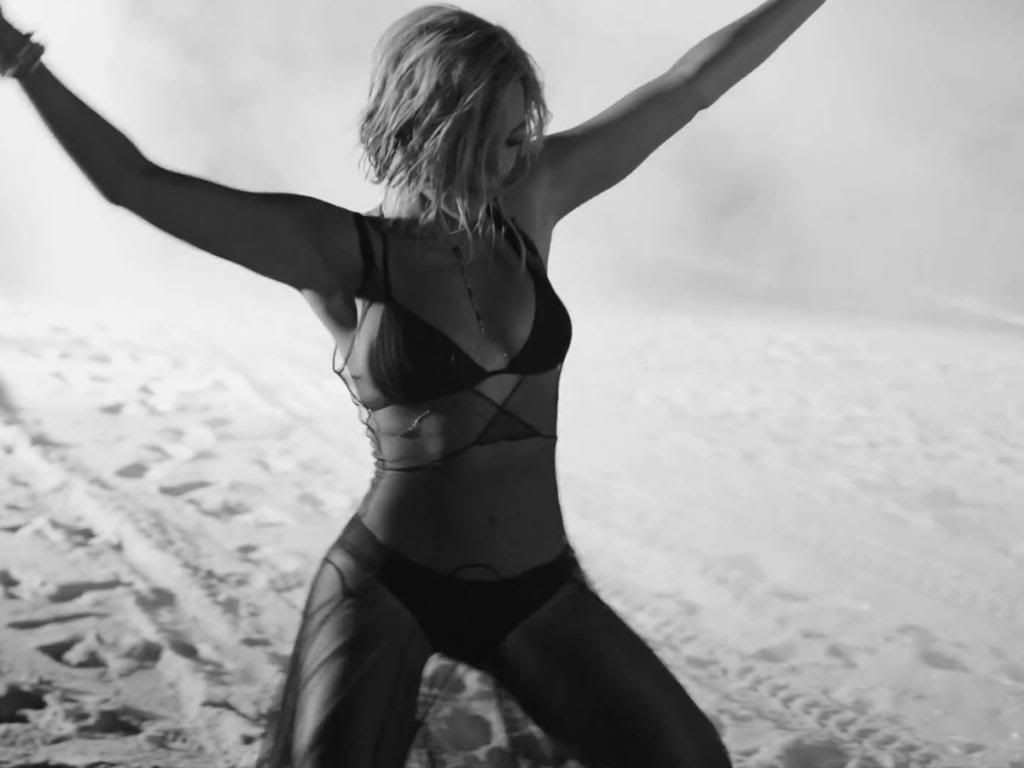 "Blow", produced by power trio Timbaland, Timberlake and Pharrell Williams, is a neon spectacle of delectable throwback fashion. DKNY printed leggings officially make their comeback, paired with a Versace tiger-print yellow coat at the videos opening, transitioning into a feminine and floral printed bra top and high-waisted short shorts ensemble. Possessing a fun and funky feel of the eighties, it was the make-up that caught the most attention. Black-lights, glow in the dark manicures and neon lips? Only in Bey's world.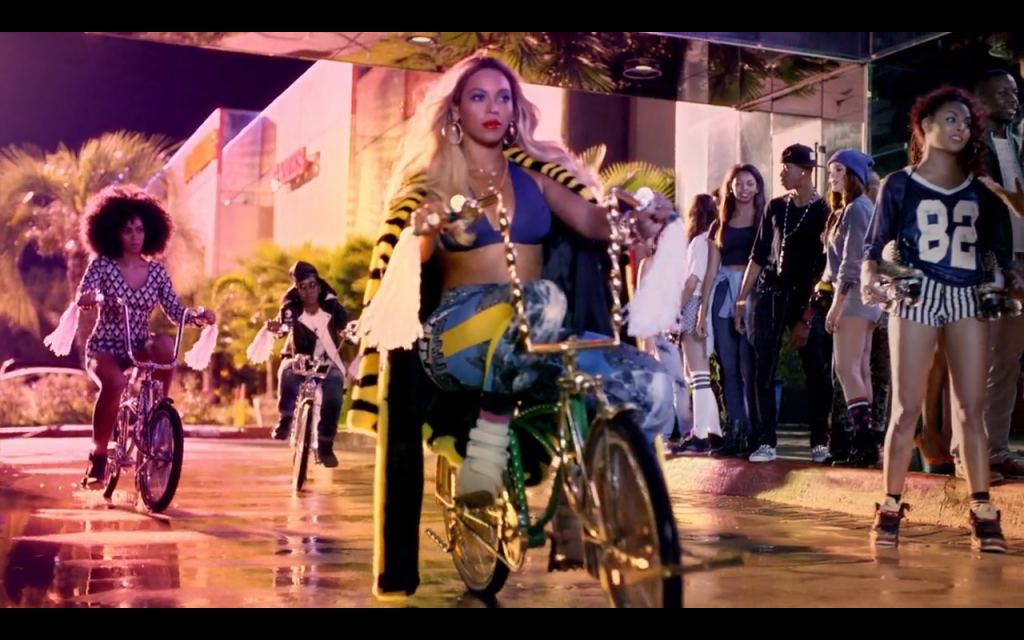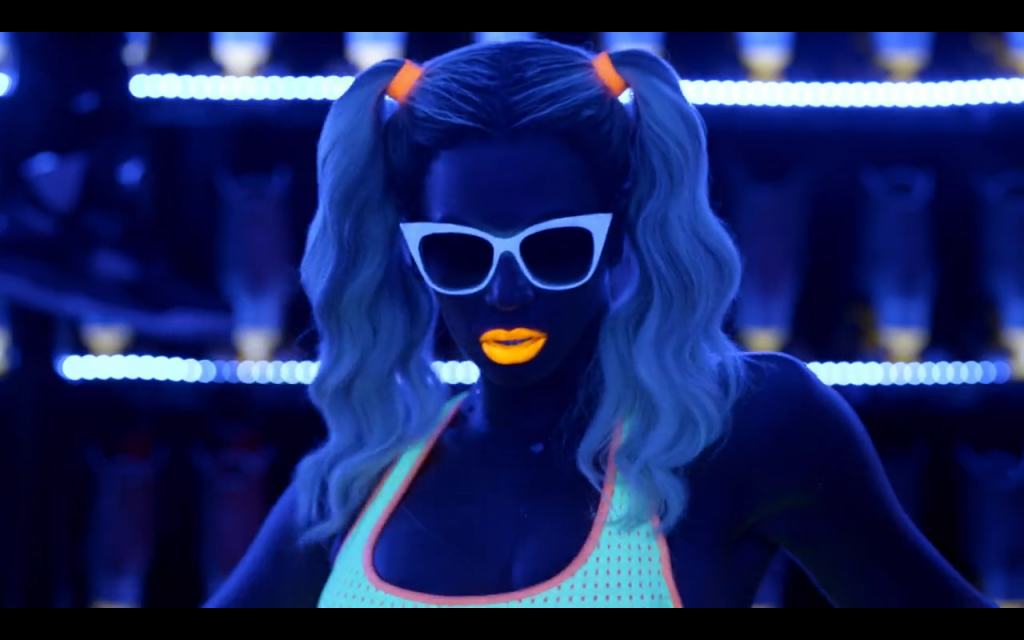 We thank Beyonce for making "No Angel" for the ensemble she chooses for walking her dog. A luxurious white fur, white body suit and Louboutin's? Yes, please. The breathy, slow track depicts that no one in a relationship is perfect. Moral of the story here kids? Even angels in white mink can be flawed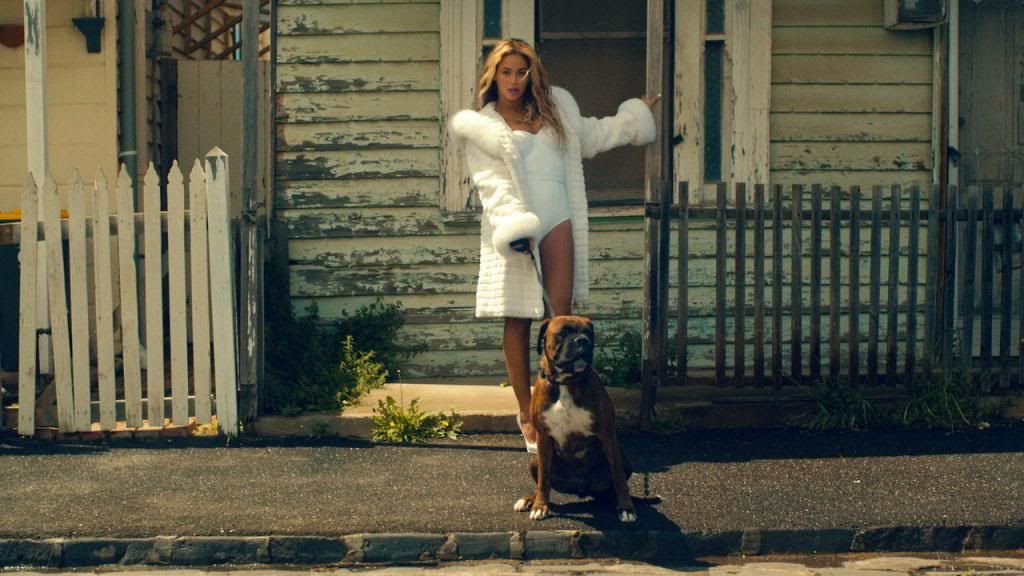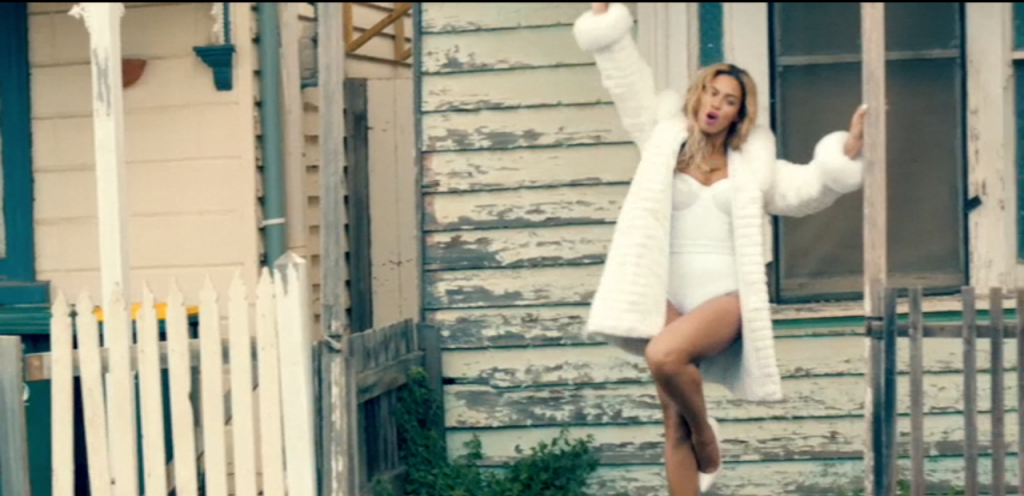 The fashion pieces in "Partition" are by far some of the most glamorous, and risqué, of all the videos. Beyonce portrays a showgirl, rocking' barely there netted and beaded bodysuits . The pièce de résistance is the breathtaking Christian Lacroix corset, dripping with crystals that was paired with Chanel laced gloves and Swarovski face mask.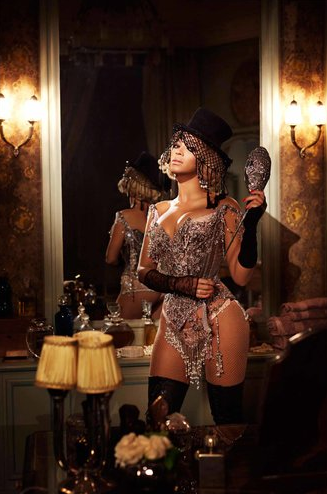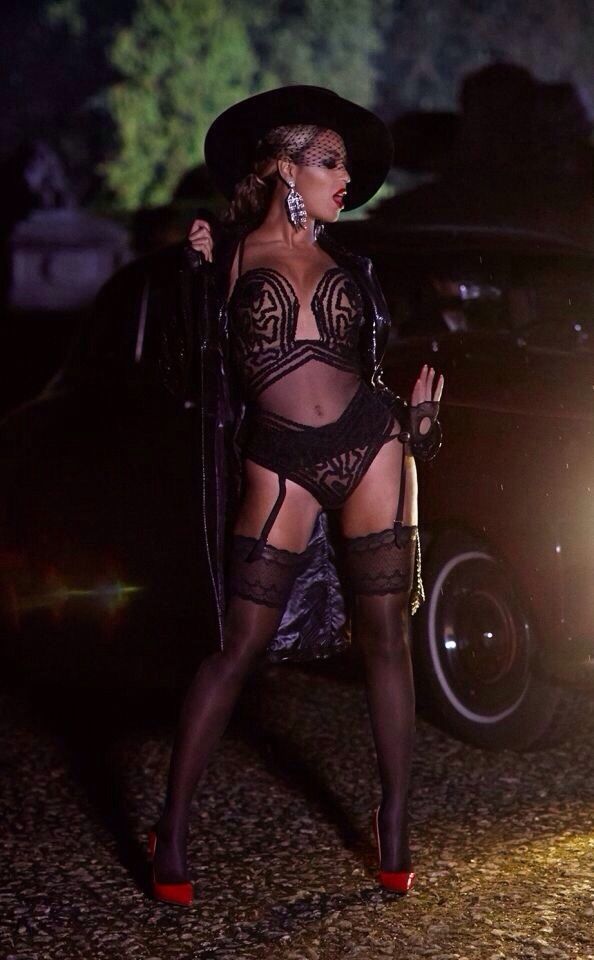 The video closing out Part One of our Beyonce visual album fashion coverage is "Jealous". A design by Russian designer Ulyana Sergeenko (see "Haunted") makes another appearance, this time in a high-waisted black corset and lace top that shows Bey hasn't been lacking any gym time. Studded jewelry by Eddie Borgo is also prominent throughout the video, adding dramatic depth to the softer, lace separates and lending an edge. The scenes at the dinner table makes one wonder if Beyonce is that fabulously flawless during meal time with Blue and Jay-Z?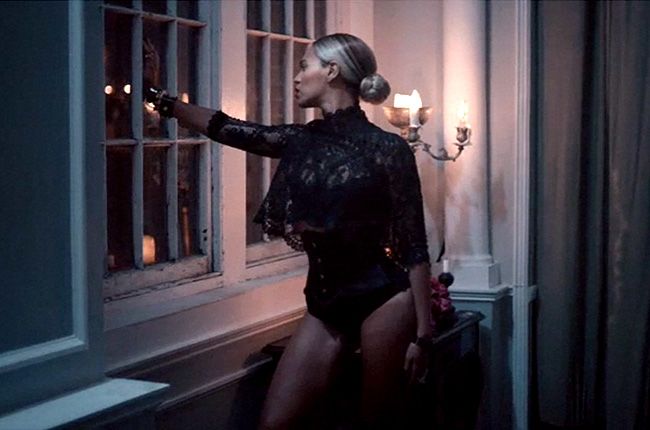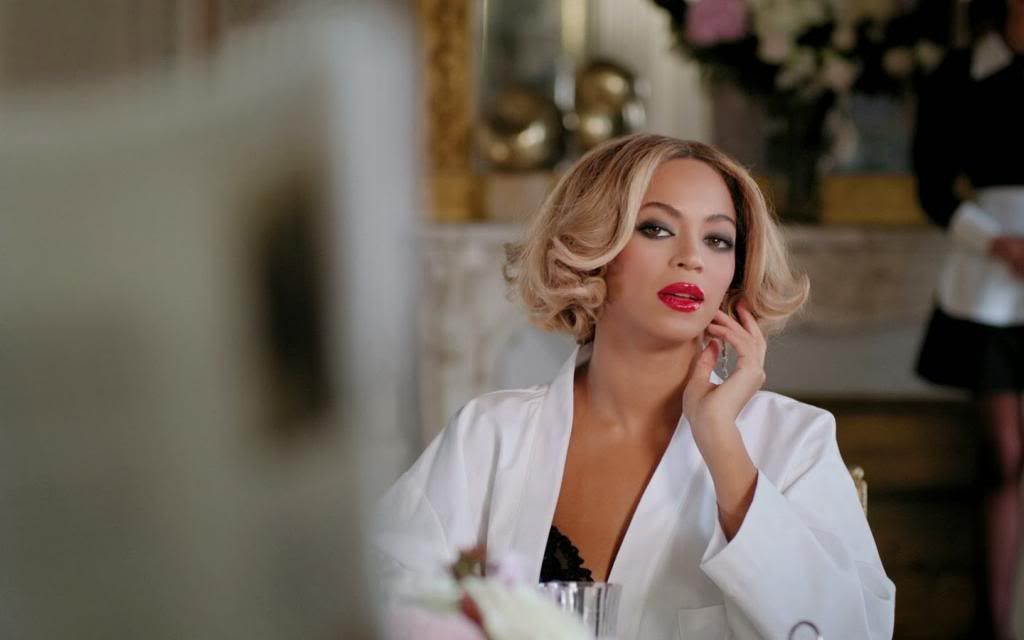 Stay tuned for Part Two of Queen B Dominates the Throne: A Look Inside the Fashion of Beyoncé's Visual Album, where we will bring you stunning photos and information from "Rocket", "Mine", "XO", "Flawless", "Superpower", "Heaven", and "Blue". Coming soon to RunwayLive.com!