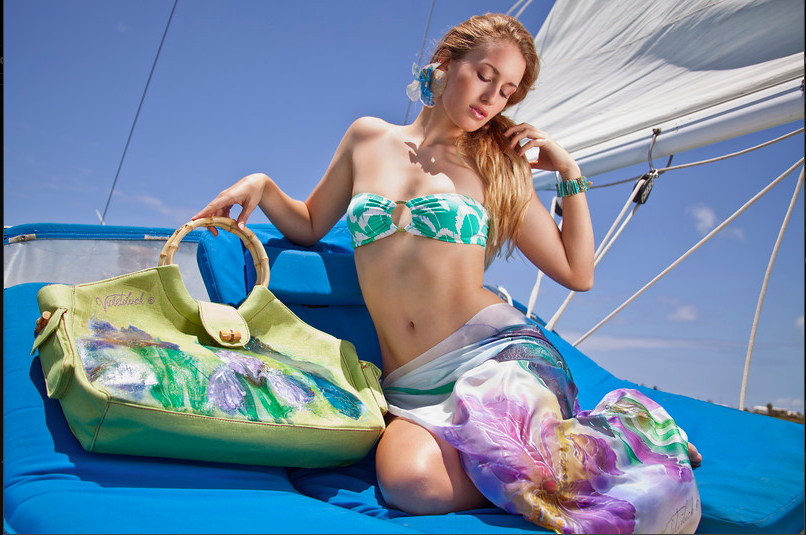 The brand was inspired by the coasts of Hawaii. Jurate had lived in Hawaii for four years and became mesmerized by the blue ocean, the colorful flowers and the rolling mountains. Violet was always very interested in art and Jurate was very much interested in fashion. Because of the similarities between both women's passions a new and innovative concept was born.
In the early stages of Violet Luck the art was focused on nature. Violet had always been talented at drawing nature and felt it was best to stay safe in the first year as a brand. The first year for Violet Luck was all about learning. Not only learning the best ways to produce this idea of wearable art but also how to run a business in general. Something that started off as just images of nature on scarves and handbags turned into a "fusion of high end fashion and art." Jurate's pieces can now be worn as dresses, tops, skirts and wraps. Along with the scenes of nature, Violet Luck began to not only include nature but people too. As time has progressed Violet Luck has expanded their brand to add more depth and meaning to every piece of silk. Not only is it a beautiful piece of artwork draped perfectly along ones body, but it is a true expression of the human form and all of the meaning that can go with it.
As Violet Luck progresses, Jurate plans to continue to make these unique pieces and continue to shock the world with her ideas. Currently Violet Luck's pieces can be seen not only on their website but in person at Art Fusion Gallery in Miami, Florida. Being able to showcase her pieces in an actual gallery is one step in the building of her brand but Jurate is not willing to stop there. Her dream is to open one of the United State's first wearable art galleries to showcase her own work while also highlighting the works of other wearable artists. This would not only boost her own brand but at the same time showcase others who are just as passionate in the field of bringing art to life.
As long as there is silk to paint, Violet Luck will be there. These sisters are passionate about what they do and it shows in the work they have produced. By creating something new and fresh they moving the fashion industry forward and they are giving art a place in high-end fashion.
For more on Violet Luck, visit www.violetluck.com
For more from Clarissa, like her on Facebook at Clarissa Burt Official and follow her on Twitter @asurmedia