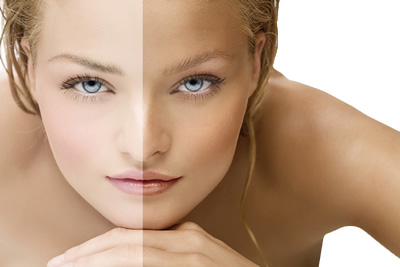 For Newbies:
An easy-to-use sunless tanner that builds up color gradually (Jergens Natural Glow Collection) is ideal for newbies. Designed as a sunless tanner/moisturizer that allows you to layer on your golden glow daily is best for a streak-free, buildable bronze look. You use this sunless tanner in lieu of your regular moisturizer. When applied daily, you will notice a gradual tan within a couple of days. Build your color daily until your achieve your ideal glow.
For Just One Night:
More interested in a one-night stand with your tan rather than a long, drawn-out relationship with it? That's ok; there are products for you non-committal girls, too. Try the bronzer St. Tropez One Night Only Instant Body Glow. This body lotion has a built-in bronzer. A single application will give you a bronze look for just one night. It washes away with your next shower.
For an Insta-Tan:
Let's face it! Sometimes you just can't wait for a tan to develop. You need dark legs and you need them NOW. For times like this, Lancome Flash Bronzer is your best bet. This sunless tanner give you an instant golden glow. It works (in about 30 minutes) to give you longer lasting color that remains up to 5 days. Slather some on your legs before you head out the door on Friday. You will still have color to get you through the beginning of your work week.
For a Professional Look at Home:
An airbrush tan applied by professionals is the creme-de-la-creme of sunless tanning. For those who want the same effect at home, try the airbrush tan-in-a-can Loreal Sublime Bronze Salon Airbrush. The bronzer in the formula allows one to see where the product has already been applied. For the best look, spray in up and down motions (rather than circular) all over your body…
Want more? Read the rest of this article in the SUMMER 2013 Issue of RUNWAY, available in-stores & on newsstands NOW worldwide! For single issues & subscriptions: http://on.fb.me/15akyI4