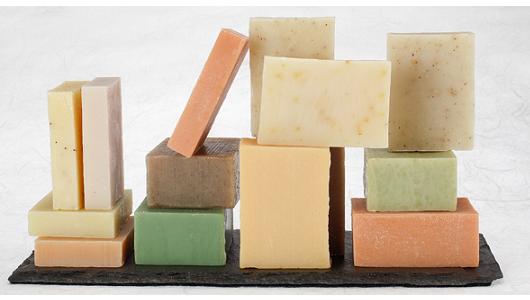 Natural, handmade soaps with unique, rich aromas have gotten easier to find, thanks to farmers market booths, local DIYers, and Etsy entrepreneurs — but many of those smaller enterprises don't use certified organic ingredients. For those seeking more organic purity, Melissa Hutcheson, the green entrepreneur behind
The Joy of Soap
, has got your bar. Melissa uses organic oilve oil, organic coconut oil, and organic palm oil as the base for all of her soaps. Those organic oils are combined with essential oils, flower petals, and other safe ingredients to create richly scented soaps that are good for you and the planet.
If you love the smell of lavender in the morning, lather up with
Lay Me Down Lavender
from
The Joy of Soap
. This intensely aromatic bar is infused with lavender essential oil and lavender flowers powder to make a soothing shower scent. Many of The Joy of Soap's bars have sexy names — like Feeling Frisky, which has a very mild citrus scent and calendula flower petals for exfoliating action, and Two in the Shower Tea Tree. There's even a Manly Man soap — with pumice power — for boys who fear handmade natural soaps will make them smell too girly.
Handcrafted in small batches in the San Francisco Bay area, The Joy of Soap's bars are hand cut in to 2- or 5-ounce bars, which are then slipped into reusable cotton muslin bags. And luckily, these mostly organic, handcrafted artisan soaps are still affordable; 5-ounce bars cost $7.50 each; 2-ounce bars $3.50. Find them at
The Joy of Soap's online store
.