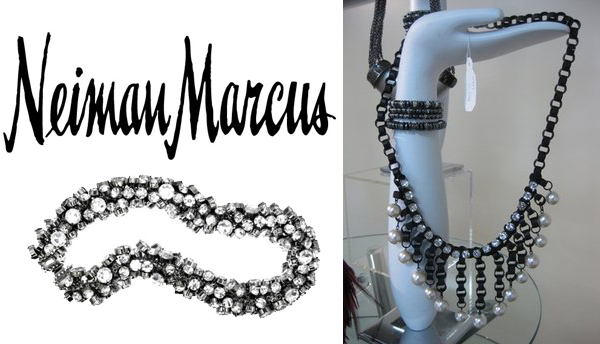 New York – When Neiman Marcus compiles their list of the season's best trends, it's time to sit up and take some style notes. Whether or not your fall budget can accommodate a new pair of leopard print Louboutin stilettos, the key is knowing to buy animal print-anything. It's as essential in your wardrobe as a little black dress.
Here's a few more important Fall 2010 trends highlighted at Neiman Marcus' latest accessories preview on Thursday, May 13 in New York:
Military influences. From army green to epaulettes, brass buttons and chunky boots with camouflage prints, tough military details are still going strong.
Fur. A controversial material, yet designers can't seem to get enough of it. Go for the faux if your conscience and your wallet preclude purchasing the real thing. Look for fur-trimmed booties, curly astrakhan-style fur purses and "Nanook of the North" fur vests.
Lace. Leave it to the European designers to give us the best takes on lace, whether it's a spectacular lace print rubber rain boot by Valentino (could soggy weather be more fashionable?) or a delicate Victorian-esque lace bootie by Dior.
Feathers. Manolo Blahnik's sophisticated d'Orsay sandals flutter with feathers, while ostrich plumes look luxe on everything from a Lanvin handbag to an exclusive-to-Neiman's feather stole by Ilana Wolf.
A wardrobe of boots. That's right, not a pair, but a full wardrobe of boots are necessary for fall. Why? Because there are too many fantastic pairs to choose from, from tall wedge boots by Chanel and Marni to Alexander Wang's anything-but-boring flat boots with a killer sculptured heel. And Givenchy is still making splurge-worthy buckled booties that are guaranteed to be on every fashion editor's must-have list for fall.
The structured handbag. Bulky hobo bags are banished and sleek is chic with these proper purses.
Pearls. Conservative, boring pearls are a thing of the past with chunky, layered designs by Vera Wang, Alexis Bittar and Lanvin. But the best pearls, mixing edgy black chain links with the pale glossy baubles, are Roxanne Assoulin for Lee Angel, though any mixed-media pearl concoction can work, too.