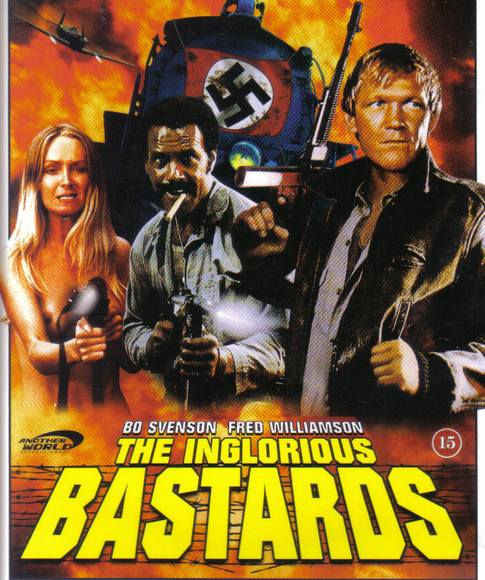 The 411: Inglorious Bastards is a story which takes place in Nazi-occupied France during World War II. Agroup of Jewish-American soldiers known as "The Bastards" are chosen specifically to spread fear throughout the Third Reich by scalping and brutally killing Nazis. The Bastards soon cross paths with a French-Jewish teenage girl who runs a movie theater in Paris that is targeted by the soldiers.
The Good: I was very surprised when I heard the news that Brad Pitt would be playing the main character but he hit the character out of the ball park. The movie is funny, violent, romantic and has a lot of action that blended into one great movie going experience for everyone. Some of the different things that Tarantino does in the movie is making it a chapter movie and that was different. The main hero or character you begin having a love/hate relationship with is Standartenführer Hans Landa aka "The Jew Hunter" who is portaryed by Christoph Waltz. His performance is just impeccable.
The Bad: The movie is your typical Tarantino movie in regards to the very violent scenes in the movie, which is nothing new for Tarantino. I also had a small problem with the movie being very long which also may be a problem for some people that go to the movies. Especially if they have to take a bathroom break! It's bad not a good situation for those who can't sit that long because Tarantino really didn't have any scenes in the movie that you can miss. A break in this 3 hour movie is pretty much impossible. Seeing Eli Roth as Staff Sergeant Donny Donowitz aka "The Bear Jew" was a surprise. I personally believe someone called the "Jew Bear" should be a little bigger then Mr. Roth but regardless, it's a good character.
The Last Word: All I can say is that Tarantino hit a home run with this movie and I could not get enough of it. The best movie of the year so far in my opinion!
Theater, DVD, or Cable in a few years: This is the movie you should not miss.