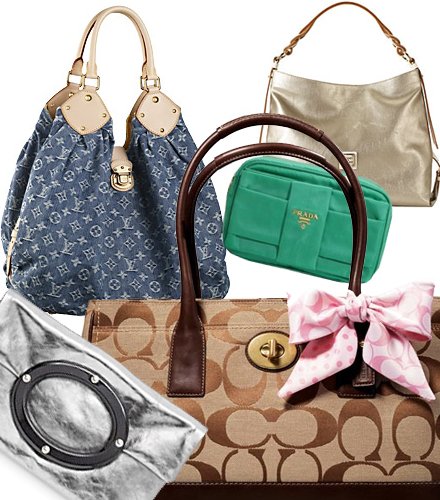 This season new patterns, new colors and possibly a new you will manifest from the 2009 Spring designer handbags. Some collections offer traditional, iconic labels and others bring forth a new way to wear fashion, even in an eco-friendly way. Runway Magazine offers an in-depth look for the fashionista who embracing the idea of becoming a bag lady, but with style.
Marc Jacobs
This season Marc Jacobs is a fashion paradigm of versatility. This line offers bags that are big and small, color from every part of the rainbow spectrum, and a varying textures. Marc Jacobs sports the signature quilted leather handbag and shamelessly adds glamour to everything. Flirty tassels hanging from gilded-looking pieces are plentiful in collection.
Gucci
Gucci- made for the fashionable, on-thego woman. Most bags have inside pockets plus spaces made for cell phones and PDAs.And of course there's nearly every bag is strewn with the recognizable Gucci script logo. The boxy Boston bag is plentiful in this spring collection. Fine details are taken care of as much of this collection has magnetic snap closure.
Passchal
For those with a green passion for fashion, eco-friendly luxury bags are the perfect option. Made from recycled tractor inner tubes, these bags are rich in color from vegetable dye and are chrome-free. From the patent leather yellow clutch to a green scrunched shoulder bag, the sizes and shapes vary throughout this collection. And most importantly, every day is Earth Day when wearing a Passchal.
Coach
With a new season comes a new look for Coach. The Madison Op Art pattern steps onto the scene of this American brand, giving a new look to the illustrious "C." Both a metallic look and leather are prominent for Coach this spring. Simplicity and inconspicuousness has nearly disappeared as nearly every bag is adorned with its earmark
Jada Loveless
Exotic skin bags and jewels go together like yin and yang for the Jada Loveless collection. The entire line of bags is made from alligator, snake and other out-of-the-ordinary skins, providing a timeless look. These distinctive materials will become even more beautiful with age. Many of these pieces are simply wearable art and timeless stones are strategically positioned in the middle of several bags.
Chanel
Like many seasons before, Chanel is embracing the smaller, quilted shoulder handbags, made from a variety of fabrics, including calfskin, lambskin, satin and suede. Large fabric and leather tote bags sporadically appear. Most bags include the iconic CHANEL logo, making a memorable impression for anyone looking from afar.
Oscar de la Renta
Giving a fresh look to classic beauty, Oscar de la Renta pushes its timeless look to the edge. Avant garde prints, such as Phoenix, stand out to the fashion renegade. In this collection, the traditional clutch will take the daredevil approach, as these bags are made from a range of materials, including alligator skins and straw-looking yellow fabric.