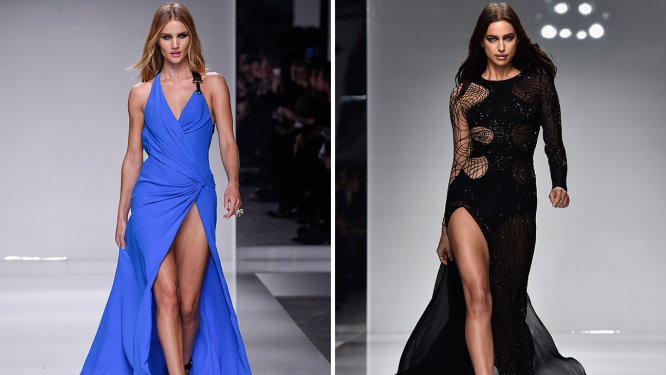 Versace Couture show is a Versace Couture show is a… festival of bombshells in bombshell minis, maxis and chic clingy pants and tailored jackets.
Donatella Versace kicked off spring couture week in Paris on Sunday, Jan. 24, with the sexiest supes on the planet: Mariacarla Boscono, Irina Shayk, Rosie Huntington-Whiteley, Natasha Poly, Lara Stone, Joan Smalls, Gigi Hadid, Jamie Bochert — none of those new, odd-looking, angular skinny girls for her!
She put the sexiest big-name models in the sexiest dresses, and we can be sure we'll be seeing some of her couture looks with these influences (not exactly the same gowns, of course) at the SAGs, Grammys, Oscar week parties and likely, the Oscars themselves.
TRENDS
The current ones: sheerness, paneling of sheer with texture, strapless, mesh, net, cutouts — but done in a new way. The mesh and net were often beaded, there were ropes of Swarovski crystals connecting the cutout dresses, and halter dresses were topless and worn over matching bralettes for a combined sexy/sporty look.
Asymmetry was in full force, as long-sleeve gowns featured open work on one sleeve and not the other. There also were torso cutouts similar to those on the red Dior dress Jennifer Lawrence sported at the Golden Globes, and even leg cutouts. The sporty theme applied to the pants looks, which were all shown with crisp bomber jackets — the jacket of the season for sure. And one newish look Versace did spectacularly: spider-web mesh, a little bit Elvira, but not all over the body — just patches of it. And of course, skin, but that goes without saying.
See more The Best Sundance Film Festival Looks So Far
LENGTHS
The pants were slightly cropped, the jackets mostly came to the waist and there were very skinny mini dresses. There was a handful of long ones, too, but those were all split in the legs, revealing maximum leg cleavage. Angelina Jolie's Versace leg revealer is demure compared with these. There also were some mini '80s-style Ally McBeal power suits in case a Dallas or Dynasty reboot is in order.
COLORS
White, white with touches of neon yellow, sky blue, royal blue, black, sheer black, orange red, black with multicolor art nouveau touches.
See more Paris Couture Week's Front Row
STANDOUT GOWNS 
Huntington-Whitely in a royal blue halter that was flung open just below the high thigh — it was like an extended bathing suit. Too bad she wore it on the runway, because she'd look great in that at the Vanity Fair party. Shayk in a black, spider- web, long-sleeve beaded gown with asymmetrical detail wouldn't just turn Bradley Cooper's head.
RELEVANCE TO HOLLYWOOD
At least one Versace Couture gown shows up on every major red carpet, and it's an Oscars staple. Donatella herself often sets up shop to work on the dresses with her clients, who are always her friends.
WHO MIGHT WEAR IT
Lady Gaga is always a likely candidate, though she has been toning it down a lot lately. But since she'll likely sing at the Oscars (and Grammys?), she'll need a few different looks. Jennifer Aniston would kill it, if DV would make her one of these with a little less flesh showing.
Kate Hudson probably has three on order already. Margot Robbie could rock any of these looks, though she does require a bit of modesty. Jennifer Lopez — goes without saying. AndBrie Larson showed off a great figure at the Globes, but as a likely Oscar winner, she won't go this sexy — but she might to the SAGs.