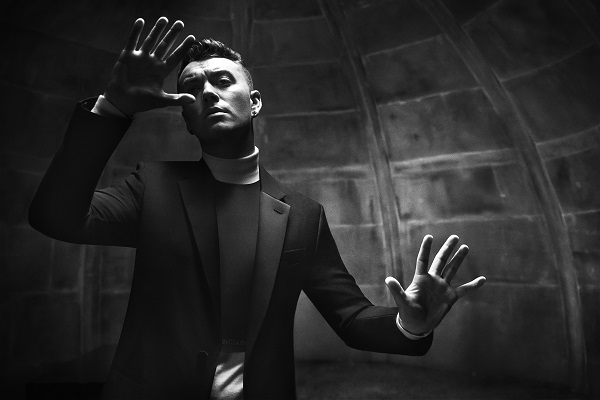 BALENCIAGA and Sam Smith are pleased to announce a creative collaboration for the BALENCIAGA Men's Fall-Winter 2015 Campaign. This is the first time the renowned singer and songwriter Sam Smith has been featured in a major men's campaign. The star of an evocative series of black-and-white photographs and a full length video both shot by Josh Olins, Sam Smith is presented in a mysterious light, relying on movement and mood to convey emotion.
Sam Smith wears iconic looks from the BALENCIAGA Fall-Winter 2015 collection, which takes inspiration from the purity of forms found in Nature to create an austere and timeless aesthetic. Through his expressive character, Sam Smith animates the modern shapes of BALENCIAGA from within.
Says BALENCIAGA Creative Director Alexander Wang: "Beyond his tremendous talent, Sam Smith conveys a quiet elegance and a subtle sensuality that are perfect for BALENCIAGA. He represents both sensitivity and power – the dualities of the Balenciaga man."
Says Sam Smith: "I am absolutely honoured to have been chosen to be the face of Balenciaga. I have been a devoted fan of the brand for a while now. I love how intimate it feels, and how involved Alexander has been and is with the brand. I never in my wildest dreams thought I'd be wearing these clothes let alone modelling them. So this is a dream come true, and I hope the beginning of a lovely long relationship with Alexander and the House."
Shot at Centrestage Studios in London, the debut images from the BALENCIAGA Men's FW15 campaign break in international publications beginning in August 2015 and on www.balenciaga.com. The BALENCIAGA Men's FW15 full-length video and imagery can be viewed on www.balenciaga.com and via #balxsamsmith.
Photographer/Videographer – Josh Olins
Art Direction – Christopher Simmonds
Stylist – Robbie Spencer
Hair – Matt Mulhall
Grooming – Pep Gay
Music – Andy Stott