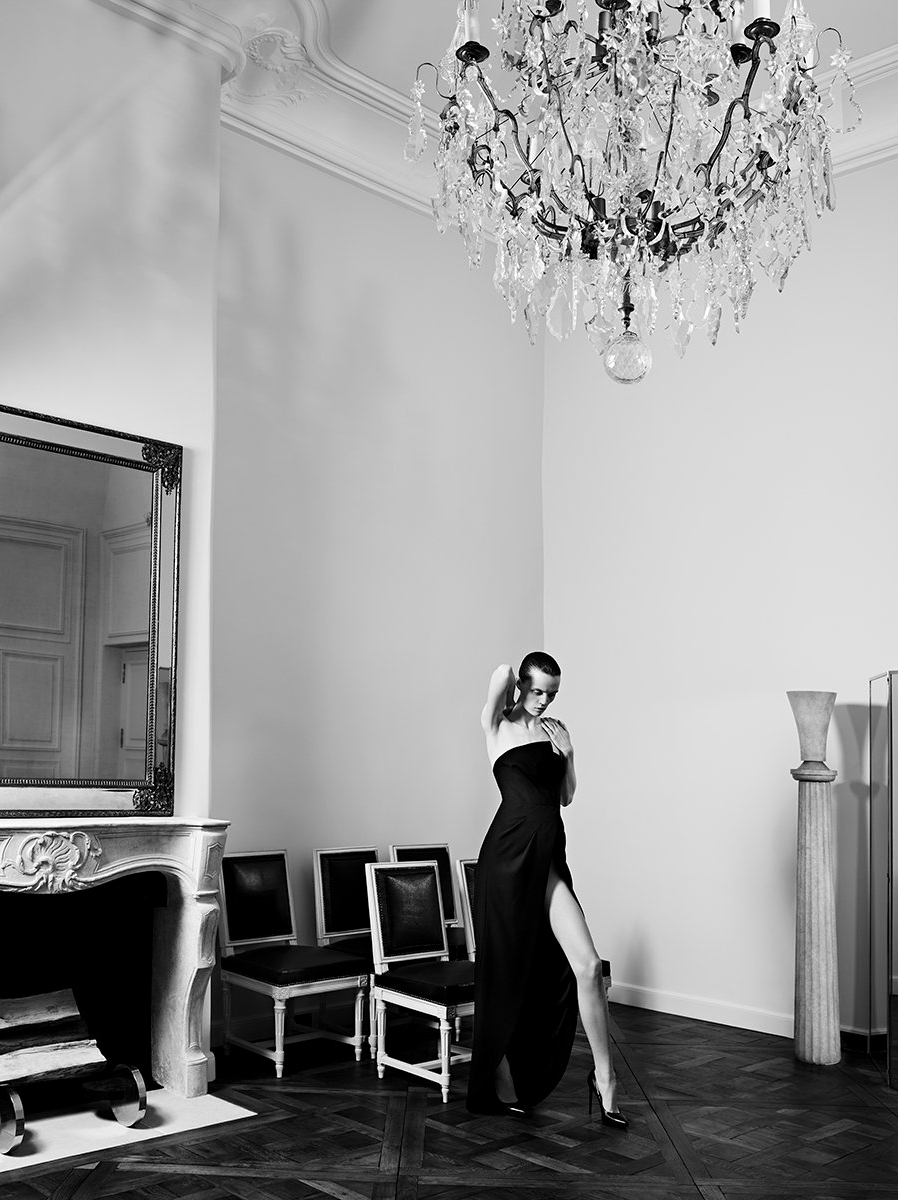 A campaign picture of the "Yves Saint Laurent" Couture ivory silk label.CreditHedi Slimane, via Yves Saint Laurent
First, Riccardo Tisci at Givenchy sneaked a few couture looks into his men's wear show, and now, Hedi Slimane at Saint Laurent is creating his own, even more exclusive, version of the club.
According to an executive at the house (no one but Mr. Slimane or Francesca Bellettini, the chief executive, is authorized to speak for the brand), Saint Laurent, which closed its couture atelier in 2002 when the designer Yves Saint Laurent retired, is officially debuting a new offering: the hand-sewn "Yves Saint Laurent" Couture ivory silk label. (Note the return of the "Yves," which was dropped from the ready-to-wear line under Mr. Slimane's direction in 2012.)
It will be "used only for 'friends of the house,' and can be both for men or women, daywear or evening wear," the executive said. "Hedi Slimane decides these orders case by case. Unlike a couture collection, this is an even more exclusive definition." Each order will be recorded in a "Monogram House Couture book held by the premier d'atelier flou," the head of the workroom that specializes in drapery and bias cutting.
Not just any rich person can have a YSL Couture garment, in other words. Only people Mr. Slimane approves can have one. As to what the qualifications for that are — well, no one knows. Though examples may be "certain looks worn at the Oscars, Cannes or for the stage," the executive said.
This puts a whole new twist on the form.
Indeed, when I asked Ralph Toledano, president of the Fédération Française de la Couture, if YSL had gotten in touch about returning to the official couture sector, he emailed back, "No!"
However it makes a certain amount of sense, given both Saint Laurent's upward trajectory — in their H1 financial report released on Monday, the house's parent company, Kering, reported that the brand had revenue growth of 24 percent (on a comparable basis) — and the fact that increasingly, brands are making bespoke garments for celebrity clients part of their business. Why not make that official and call it what it is? Couture — just outside the official world of the French governing body.
This is the rationale of Givenchy, which is owned by LVMH Moët Hennessy Louis Vuitton and which dropped off the couture schedule in 2013 but continued to serve special clients behind the scenes. They just didn't have a show — until Mr. Tisci featured 11 couture looks (for women) during his men's show in June. Whether that would herald a full-fledged return to the schedule, however, they did not say.
In both instances, I am struck by two things:
1) In a way, this is a vote of confidence in the fashion form, which is often subjected to the "Why do we still need that antiquated and exclusionary way of dressing?" debate. After all, Mr. Slimane, along with Mr. Tisci, pretty much embodies cool (and sales) for the contemporary fashion establishment.
And, 2) it suggests that neither feels the need to define couture the way French fashion used to, but rather wants to go their own way.
So it will be interesting to see how this plays out, in both cases — though especially in Saint Laurent's. Will positioning himself as the grand chieftain of deciding who gets to wear a YSL couture garment make Mr. Slimane, and his clothes, more attractive, or will it just make people mad? Given the incredibly seductive desire most of us have to be part of the in-crowd, my guess is the first, though the second is always a possibility. As is the idea that quite soon, other brands might follow suit.
Pun intended.