However, there is much more behind a secluded couples retreat than just rekindled romance. According to a 2013 survey by the U.S. Travel Association, couples who travel together have a better sex life than those who don't. In fact, 28 percent of those surveyed said that their sex lives improved after traveling together while 40 percent said that their sex lives were permanently better.
It is simply about getting away from the daily grind and focusing on each other; taking the time to truly enjoy each other's company and reconnect. In addition, traveling to a new exotic location that neither partner has visited before, experiencing new cultures and trying new activities together, can bring people closer. Having new shared experiences can also teach you something new about the other person, and there's nothing sexier than the feeling of something new, fresh and exciting.
Ideal couple's retreats are not limited to paradise resorts and island getaways—and you should not visit a tourist hotspot if what you are seeking is privacy. There is an array of beautiful, isolated destinations from the wilds of Alaska to the beaches of Jamaica, all designed to make you feel like royalty.
The Sarojin Khao Lak Beach Resort in Thailand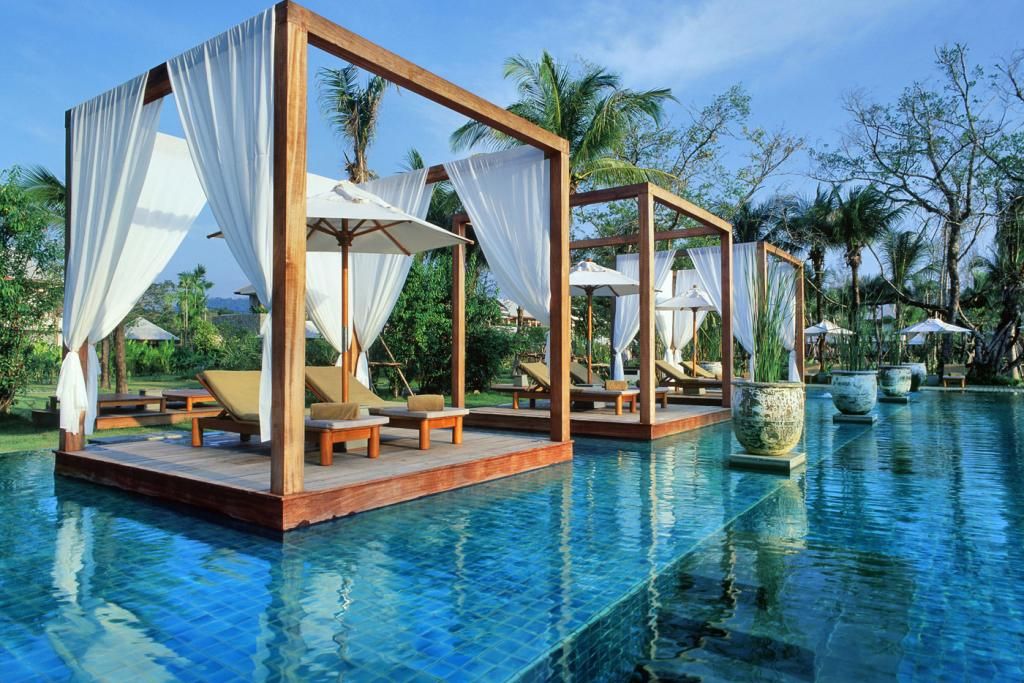 Legend has it that Lady Sarojin, eldest daughter of a prominent Thai nobleman, became mistress of her father's house after her mother's ascension. She took her responsibility of running the residence and grounds for her father's guests so seriously that it attracted travelers from all over the world. The story behind this resort's name celebrates that luxurious history, the staff's attention to detail, and local culture. Set in a lush tropical garden, the 56-room resort borders a secluded 11 km white sandy beach, five rain forested national parks, and world famous dive sanctuaries of the Similan and Surin Islands national marine parks. The Sarojin is a beach lover's paradise; activities include taking a cruise on the resort's luxury yacht, canoeing through sea caves, swimming with elephants, snorkeling, deep sea fishing, and windsurfing. If you opt to stay on land, you have the options of sightseeing jungle adventures complete with champagne, exploring temples at sunrise, Thai cooking classes, fruit carving, or you may indulge in romantic dinners by a candlelit jungle waterfall.
Bora Bora Pearl Beach Resort & Spa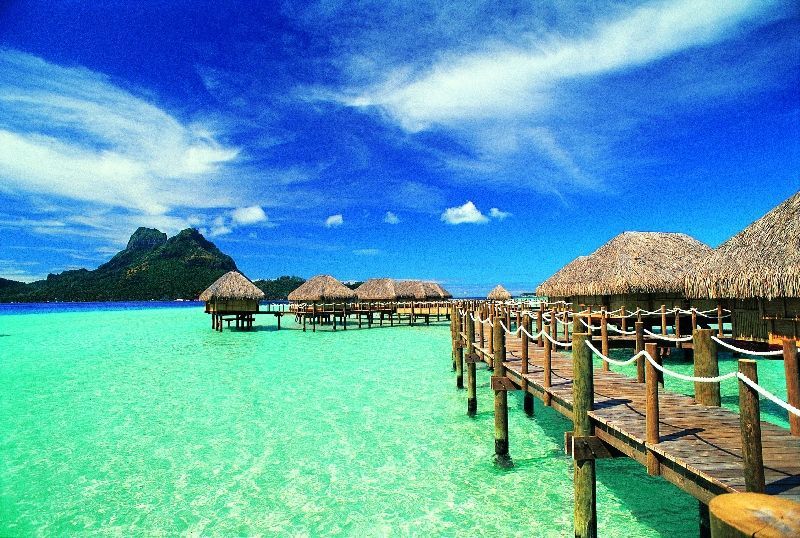 This indulgent Polynesian retreat offers some of the best accommodations for the best value. If you opt for star-status seclusion, opt for the Garden Pool Suite, which features open-air showers, a plunge pool and a deck in your own garden. For those seeking the ultimate paradise experience, check out the Overwater Bungalows. The bungalows feature decks that provide direct access to the water, a glass-topped coffee table that opens so guests can feed the fish below, and stunning views of Mt. Otemanu. Schedule a couple's massage, we recommend the Monoi Ofai, which uses hot volcanic rocks, at the Manea Spa, which utilizes locally sourced natural oils and ingredients. You can also have a couple's bonding tattoo experience with the resort's on-site tattoo artist. Finish your day by snorkeling around the hotel's coral gardens and nursery, which aim to regenerate sick coral relocated from damaged reef areas—an experience not to be missed.
Secrets Resort in Jamaica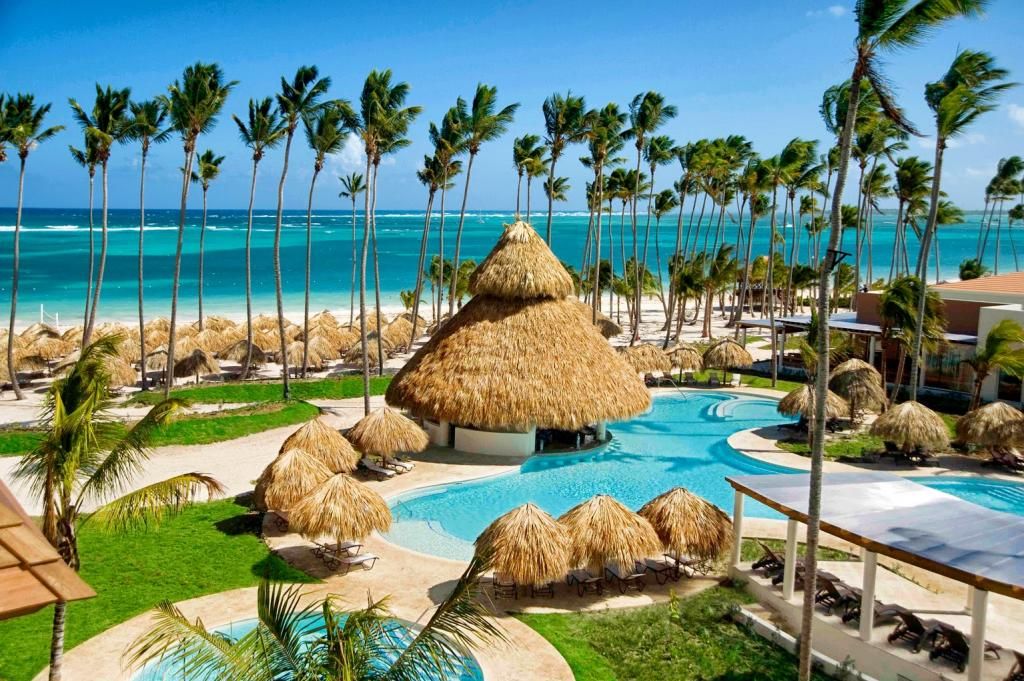 Set on a peninsula surrounded by crystal-clear Caribbean waters, this quiet oceanfront destination is home to 350 luxurious suites, each featuring a whirlpool tub and private balcony. You will still get the feeling of romance, especially with their honeymoon, vow renewal and anniversary packages. The nine on-site restaurants cover an array of gourmet cuisines, and the 15,000-square-foot spa offers more than 30 treatments including aromatherapy salt rubs, chocolate wraps, and water lily sun relief therapy. Take to the sea for windsurfing, kayaking or snorkeling or tee off on some of the Caribbean's most challenging championship golf courses nearby. There is also horseback riding, euro bungee, hiking, bicycle rides, complimentary scuba lessons, batting cages and dance classes. A great destination for those looking for a non-stop, fun-filled vacation.
Mirror Lake Inn in New York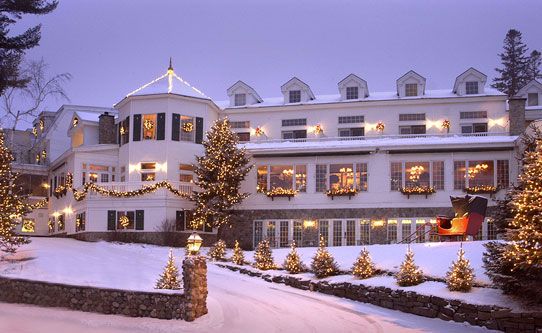 Established in 1924, Mirror Lake Inn at Lake Placid boasts an impressive list of desirable attributes. The inn has held a place in Olympic history and most of the staff members have been there for decades. The food is locally sourced and its spa is rated as the best in the Adirondacks (highlights include a eucalyptus steam room and Italian marble floors). There are several unique suites to choose from with lake and mountain views and floor-to-ceiling windows. It's also enjoyable year-round with an indoor 60-foot lap pool designed to mimic a swimming hole in the wild, as well as a heated 50-foot outdoor pool that overlooks Mirror Lake and the High Peaks. Many of the Olympic venues are available for guests to try out, including the bobsled skeleton, luge tracks, biathlon course and the ski jump. You may also stretch out on the sandy beach, test out the private skating rink, or grab some complimentary snowshoes.
Kenai Princess Wilderness Lodge in Alaska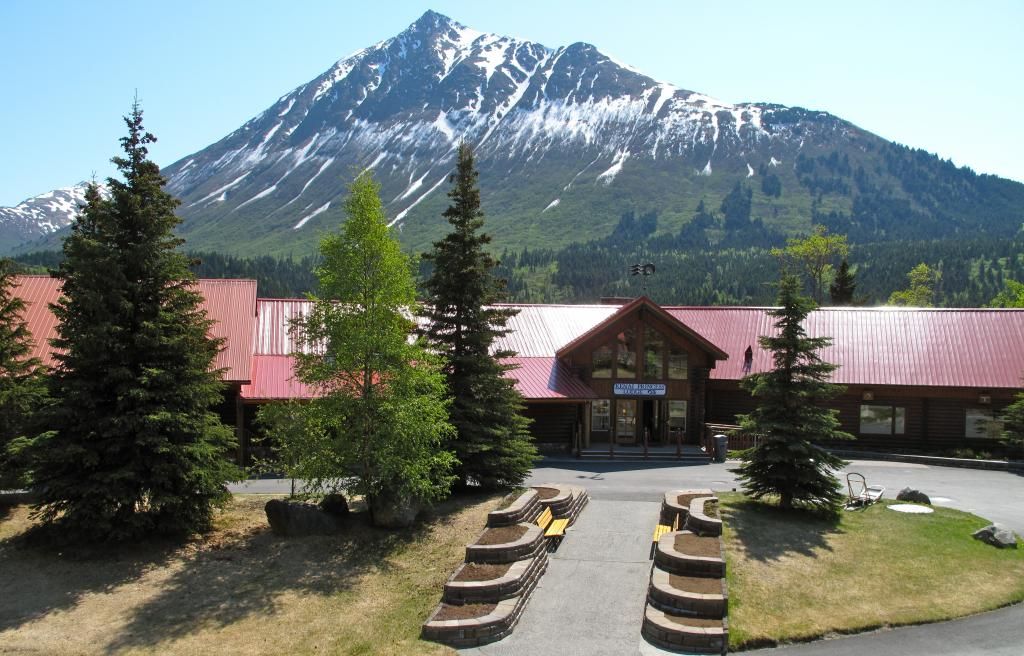 The bungalow-style rooms at Kenai Princess Wilderness Lodge infuse tranquility with a sense of adventure. Whether you want to stay indoors, never leaving your room, for a winter weekend to watch the snow fall, or desire to have an activity-packed romp in the wild, this is the resort for you. Wood-burning stoves and vaulted ceilings make you feel right at home, while expansive views of the Kenai River valley and mountains await you from your private patio. The Kenai River is not only famous for its lovely blue-green hue, but it is also a place to truly enjoy the great outdoors. There are fishing tours, a river rafting excursion, nature hikes and wildlife viewing. Cruises through the Kenai Fjords National Park also take place throughout the year. The cuisine, sourced from local fish and game, is to die for.
Published in the SU2014 issue of RUNWAY.