While the pangs of his all too soon loss are still fresh in our hearts, let us instead of dwelling in the sadness over the method of his passing, draw attention to a few of the countless beautiful things he has said and done in the years he had. In no way can a singular article such as this truly capture the spirit and essence of this beloved gentleman, but it can serve to help us celebrate his life by looking back with fondness on the smiles and belly laughs he brought to millions, both old and young. In no particular order, here are eight of Mr. Williams' most notable roles, powerful quotes, and life achievements, which truly highlight him at his best for the wonderful man he was, and will always continue to be.
1.) Portraying a unique variation on one of the most famous literary children's characters, Mr. Williams as Peter Banning (Peter Pan) in "Hook," 1991:
Granny Wendy: So… your adventures are over.
Peter Banning: Oh, no. To live… to live would be an awfully big adventure.
This incredible twist of a sequel plays on the classic fairytale and tells the story of an adult Peter Pan who married and grew up to be a cutthroat lawyer and lost sight of his heroic and magical past. With the help of Tinkerbell and other old friends, he returns to Neverland after Captain Hook kidnaps his children. Peter reclaims his youthful spirit in order to challenge his old enemy and remember the joy he once felt of being "the boy who never grew up." Taking this notable role to heart, Robin won us over with his award winning and touching performance. He taught us to have faith, trust, and pixie dust– and that simply living was the greatest adventure of all.
2.) His role in the incredibly moving film Dead Poet's Society as English teacher John Keating who inspires his students to "Gather ye rosebuds while ye may… Carpe Diem, boys. Seize the day…"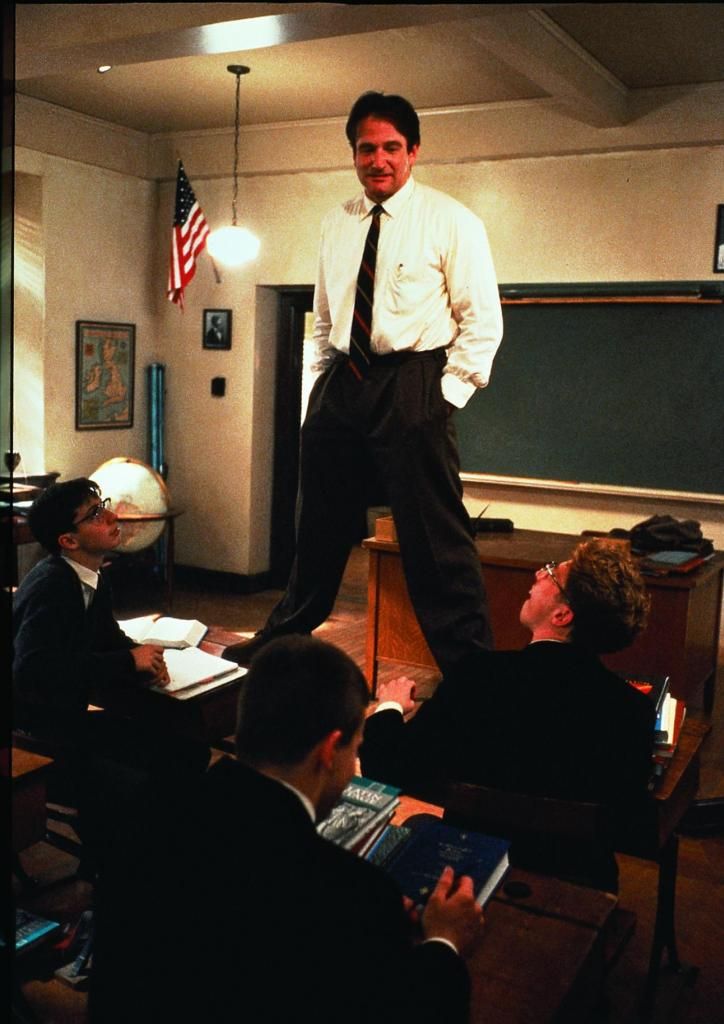 Dead Poet's Society was a secret club dedicated to taking the meaning out of life. To do so, the members would sit in a cave near a certain pond less than a mile from school grounds and recite poetry with one another. With this new and innovative idea in his student's heads, and despite Keating's unorthodox teaching methods and idealistic methods, the boys are inspired and decide to start up the society once again. "We don't read and write poetry because it's cute. We read and write poetry because we are members of the human race. And the human race is filled with passion. And medicine, law, business, engineering – these are noble pursuits and necessary to sustain life. But poetry, beauty, romance, love – these are what we stay alive for." -John Keating (Robin Williams)
3.) The admirable and deep friendship between Robin and the late actor Christopher Reeve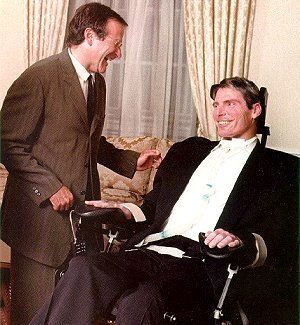 Robin Williams and Christopher Reeve met when the two actors became roommates, and were studying at the Juilliard School in 1973. They became great friends, and before they became famous, they promised each other that whoever made it would take care of the less fortunate one. But they both became successful in their careers, and remained close friends throughout. After Reeve's suffered his paralyzing accident in 1995, Williams vowed to pay for any hospital costs that weren't covered by Reeve's insurance, and also helped in founding The Christopher Reeve Paralysis Foundation. Robin promised Chris on his death bed in 2004 that he would take care of his son, and he had kept his promise ever since. Williams still claimed that Christopher was and always will be his best friend. That is true friendship at its core, and now, the duo have no doubt been blissfully reunited in healthy peace.
4.) One of his most notable and inspiring quotes detailing a plight of our everyday lives and our confidence of our own importance.
"no matter what people tell you, words and ideas can change the world." – Robin Williams
Despite how small we as human beings may sometimes feel, and in moments which we are weak and believe as if our opinions do not matter, Robin ensures us that despite how the world may tear us down and lead us to believe that we are insignificant– this is certainly not the case. Despite that he himself was overcome in a moment of weakness, his end should not overshadow the bright moments like this that he shared with the world.
5. ) Robin Williams has actively supported the following 28 charities and Organizations (and more!) by donating his time, promotional efforts, and funds towards a plethora of causes close to his heart:
Aid Still Required, American Foundation for AIDS Research, Amnesty International, Andre Agassi Foundation for Education, Augie's Quest, Bob Woodruff Foundation, Celebrity Fight Night Foundation, Christopher & Dana Reeve Foundation, Comic Relief, David Foster Foundation, Doctors Without Borders, Dogs Deserve Better, Dream Foundation, Elizabeth Glaser Pediatric AIDS Foundation, Heifer International, International Medical Corps, Keep Memory Alive, LIVESTRONG, Love Our Children USA, Luke Neuhedel Foundation, Muhammad Ali Parkinson Center, MusiCares, Prince's Rainforests Project, Prince's Trust, Robert F Kennedy Memorial, Smile Train, St. Jude Children's Research Hospital, UNICEF, USO
If this lengthy list of his charitable gestures is not a prime example of the nature of good which can be found in this world, I don't know what is! For a man in a position of global fame and a modest fortune, to say Mr. Williams' compassion is 'admirable' is not accurate enough a term. His heart was as big as they come and the desire to help in all areas of life no doubt filled his days with joy, and others with hope.
6.) The unforgettable Disney Voice of a Generation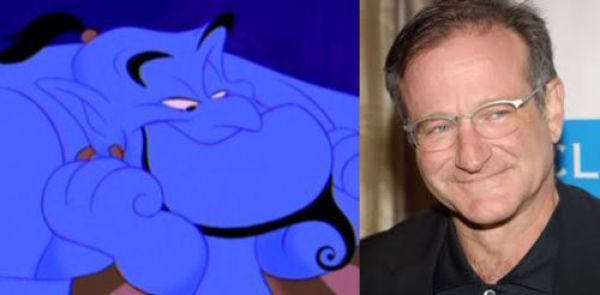 Williams, the singing as well as speaking voice of the lovable and magical Genie of Aladdin, solidified his place among the pantheon of Disney voice actors. Children who grew up on his whimsical catch phrases and charming demeanor will forever feel the impact of this enchanted , one-of-a-kind character. Parents and animation fans alike laughed along the way as he improvised and morphed the character into the enthusiastic and excitable. We've never had a friend like you, and we never will again.
7.) He was a multiple time Golden Globe and Academy award winner as well as host!
From his 1998 Academy Award win for Best Actor in a Supporting Role (Good Will Hunting) to his Golden Globe wins in 1992-1994 (Mrs. Doubtfire, Aladdin, The Fisher King) Mr. Williams never lost his laugh. The attention and fame never went to his head and overshadowed the joy for his art, as he continued despite all his recognition to stick to his comedic roots, never changing for anyone. Alongside Alan Alda, and Jane Fonda– Robin Williams served as the third recipient of the honor of a master of ceremonies for (arguably) the world's most famous award ceremony! In 1986 the trio of hilarious hosts brought the house down for the 58th Annual Academy Awards and secured a place in revered entertainment history.
8.) "Comedy is acting out optimism." The legendary comedian was globally idolized for his hilarious deliveries, memorable one liners and jokes, and his incredible impressions.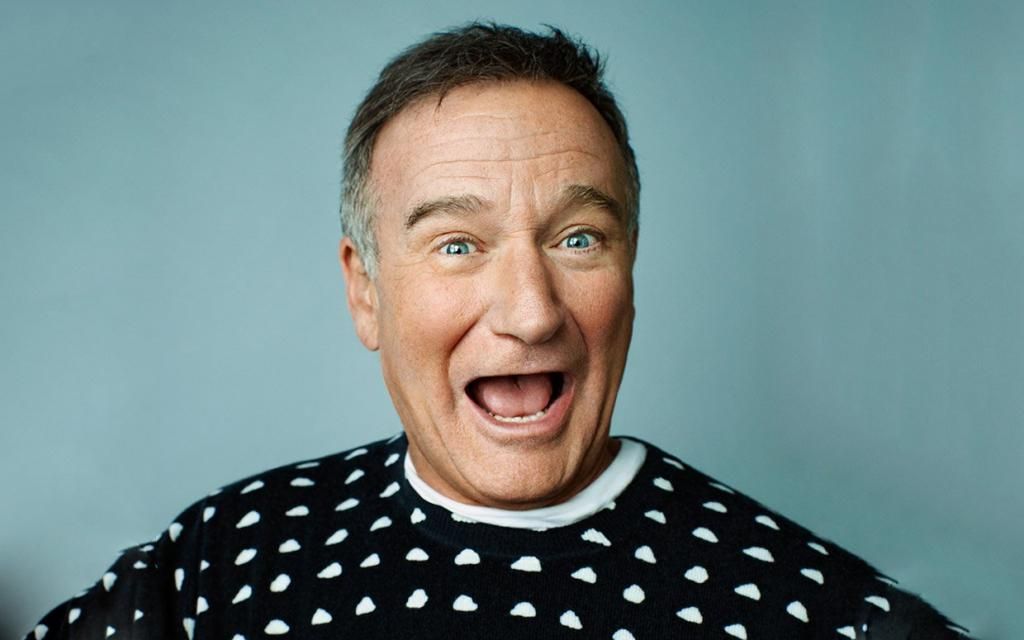 Robin was once asked by a reporter what he said to aspiring comedians who asked him if they should be a comedian.
He flatly said, "I tell them no. Don't do it."
When asked why he would say such a thing he replied; "If they have the drive to make it; they're not going to give a f*** about what I say. And if someone quits because I say that; then they weren't going to make it anyway. I just saved that person from wasting their time."
What has been listed above is only a short glimpse into the life of a man who was more than the entertainer most knew: a father, husband, mentor, role model and friend. Let us be reminded in this time of grieving to respect the privacy of those close to him, and not get negatively wrapped up in the nature of social media. It's all too easy to transition from honoring his memory to prying for information and garnering attention.
I, like so many others, sit struck with this news, but attempt to humbly write on behalf of many. Despite my attempts to transcribe just how much his work and influence has meant to the world– even still, words fail. Robin Williams made the world laugh, and now with his memory he is making the world cry. A great and irreplaceable light has gone out, but from all of us to you, sir: may you have a beautiful journey onwards and rest in gentle peace free of the worries which weighed on you. The laughs and priceless memories you have created for those behind you will guide you on your way.