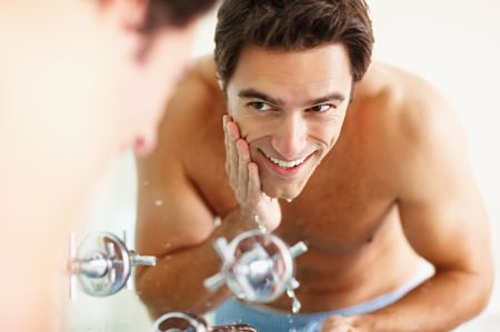 Sexy skin is for men, too.
Men deserve a sexy, smooth, touchable face just as much as women do. Botox may be going to the extreme, but men may be surprised when they come to find that botox is on the up and up now days among men. However, for now, let's start simpler.
If you want a clean, clear, smooth face, you have to wash, and moisturize, every day. I know that is difficult for some men. In the shower, when you brush your teeth, wash your face. Make it a habit. Here are a few good face washes, moisturizers, and after shaves for men.
– Dermalogica For Men –
This is one of the best, most extensive skin care lines around. Used frequently in beauty schools, this line has everything you could need, as it offers a wide selection of facial mapping products. The shave collection includes many amazing products for men.
A couple of our favorite essential items include:
– Dermalogica : Clean Bar
This bar of soap is deep cleansing and is one of the most basic products in the line. A great product to start with, it deep cleans, renews skin, removes dirt and oil, and is specifically formulated for a man's skin. $19.00
– Dermalogica : Soothing Shave Cream
This rich and creamy shave cream give you a super-close shave that won't leave skin feeling irritated. It helps skin recover from damage and helps prevent and reduce aggravation bought on by shaving. It also contains no artificial fragrance or color. $19.00
If your man is into it, we also suggest getting pedicures together. , you may even want to consider getting a pedicure. If he's not a salon goer, maybe ease him into it by massaging his feet at home with some lotion, using clippers, and giving him a nice foot buff. If it means looking fresh and clean, why wouldn't he want to please you?
Shopping is a favorite past time of the gentler sex, but sometimes men don't go for shopping malls and fitting rooms. If there is something you think they would look great in while shopping, suggest it. Tell him why you like the style, and why you think it'd look good on him. Instead of complaining about your man's hygiene or style, something that will only get him down, let him know you're just using your fashion savvy-know how to make some suggestions.
Plus, if he's open to it all, you'll get the benefit of a smooth, kissable, sexy dressed man.