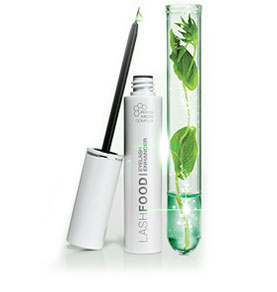 Produced by cosmetic scientists, this lash enhancer works at a cellular level to give you those lashes you desire. LashFood is vegan, drug, and cruelty free. Most importantly, they do not test on animals. In an independent study 85% of users noticed improvement in fullness and all users noticed a difference in length and density. The products used are all natural ingredients such as lavender water, soy protein and rice protein. In addition, products used in LashFood Conditioners are registered with the FDA.
LashFood works from the root up. Although each application lasts 24 hours, you can apply day and night and can go about your daily makeup regime while doing the treatment. Using LashFood is an easy process; you simply apply the product at the root of the eyelash along your eyeline. While individual results may vary, you should notice a difference in 4-8 weeks.
It is packaged thoughtfully with cases made of sustainable materials and bottles lasting up to 5 months. In addition to lashes, LashFood offers a wide variety of products that focus on the eyes such as eyebrow conditioner, primer, mascara, creams and liquid eyeliner.
For more information about LashFood, visit their website at http://www.lashfood.com/r/.
By Tatyana Soto for Clarissa International Media Group
Like Clarissa on Facebook –Twitter @ClarissaTvMag