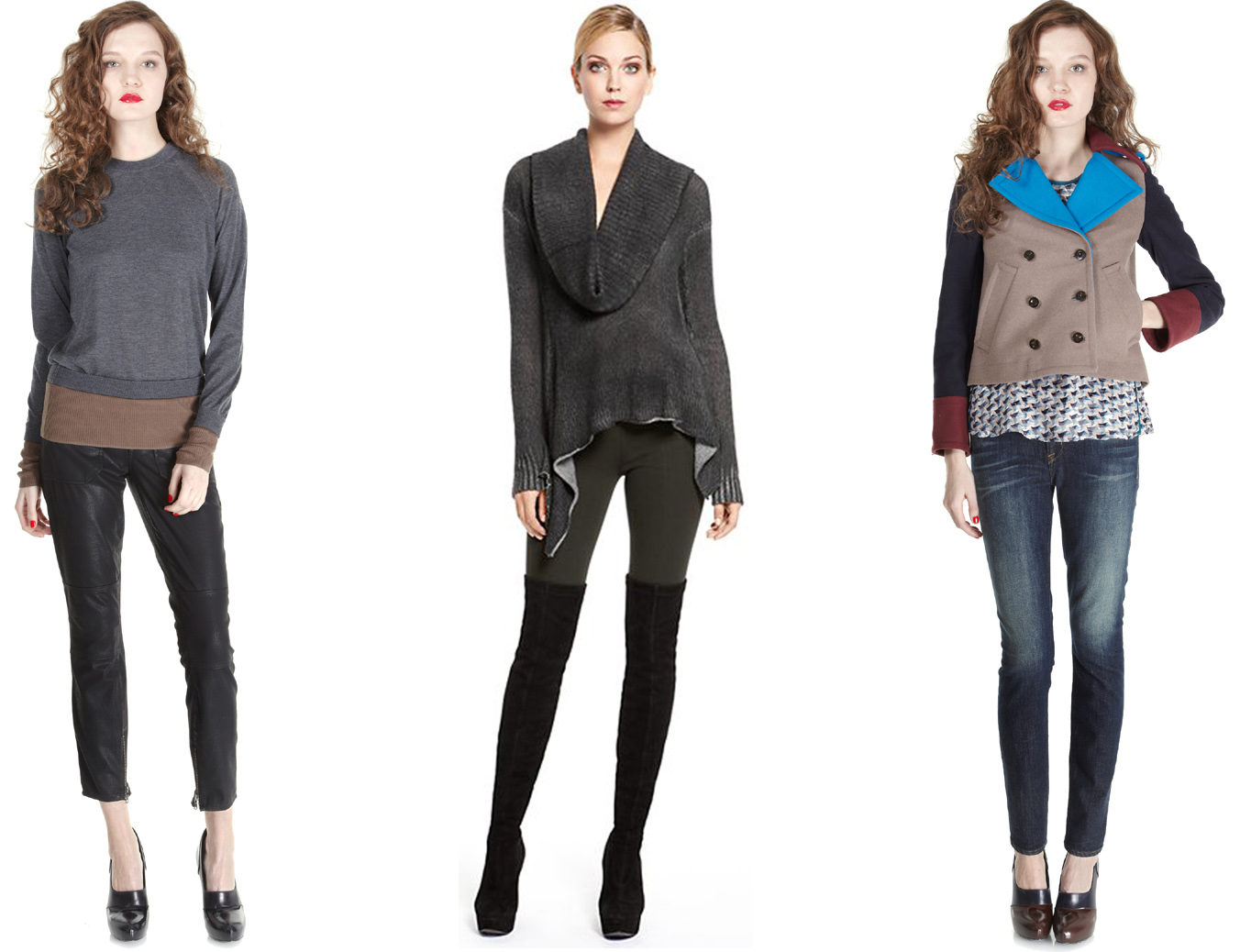 First, let us start with the basics. When the temperature drops and we send our spring and summer wardrobes packing for the season, there are a few pieces to keep around that will be beneficial when layering your winter ensembles. Basic t-shirts and tanks work well when worn under chunky sweaters and knit dresses. Your ankle boots work year round, as do your miniskirts. Pairing a mini with leggings or tights and a cashmere sweater looks festive and fun for a holiday party. Throw on a scarf and you have got yourself a complete outfit.
Before we go any further, there are a few simple rules when it comes to layering that can make your fashion statement a hit or a miss…
Simple Do's & Don'ts:
DO
Keep it simple. While staying warm is key, do not over do it with too much outerwear. A thick, warm trench or pea coat works well to keep your body heat in but can be removed to reveal a lighter outfit once you are inside.
DON'T
Wear just one color. When you layer, it is easy for eyes to get lost in a sea of fabric if it is all one shade. While there are exceptions to this rule, try to mix it up. Alternatively, if you must stick to one color, choose different shades, think of a gradient. For example, a pair of charcoal trousers worn with a silvery grey turtleneck and a black coat is a better choice than a gray pantsuit, gray coat and gray boots. A little effort will go a long way.
DO
Mix up fabrics. Layering is all about texture. Each piece should stand out against the others. Try a combination of a wool coat, cashmere sweater and leather skinny pants or a cotton tee, a fur lined jacket and denim jeans. For eveningwear, satin gowns pair beautifully with fur or faux fur and long sleeve gowns are very popular this season, eliminating the need for a coat, and a stop at the coat check, all together.
DON'T
Don't be afraid to play with patterns. Just like the importance of texture, prints and patterns can add character to your ensemble. A fun printed pair of leggings or trousers can be a good contrast to a bold solid sweatshirt and plaid always works in shades such as red, navy or hunter. Other big prints this season: paisley, animal prints and houndstooth.
DON'T
Bulk Up. One of the biggest mistakes many people make when layering is that they layer the top and bottom too heavily. It is important when choosing your pieces to maintain your shape and style. If you are going to wear a chunky sweater or oversized coat, keep the bottom simpler. Leggings, tights or skinny jeans work best for balance. And vice versa, with this seasons baggy trousers, it is best to pair them with a fitted cashmere sweater or a tank and fitted denim jacket. Another option is to belt bulky trenches, sweaters and knit dresses, so that you don't lose your figure. Steering clear of all of the tempting holiday treats will help you in this area as well.
DO
Accessorize! One of the best parts of layering is the accessories that go along with it. Scarves, boots, handbags and chunky jewelry are the reasons I count down to late fall. It is a great way to add color to a basic color palette if you have yet to experiment with an electric pink trench. Do keep in mind, that the same rules apply here as with the clothing pieces. Choose only a couple that will compliment your outfit. Too many accessories can make you look over-done. Less is more, even in winter wear.
If you keep things simple, it is easy and fun to construct a winter wardrobe that is both versatile and functional. For work, a nice crisp button down and a textured or patterned short sleeve sweater looks put together with a tailored pair of trousers. For after dinner drinks you can lose the sweater and add a colorful chunky necklace in a deep jewel tone, extra points if you swap out the office pumps with some sassy strappy heels.
Layering can be a creative way to think outside the box while adding some fun new pieces to your wardrobe. Keep it simple, let your unique style shine through year round and remember, it is possible to remain fashionable and fabulous, even on the dreariest days of winter.