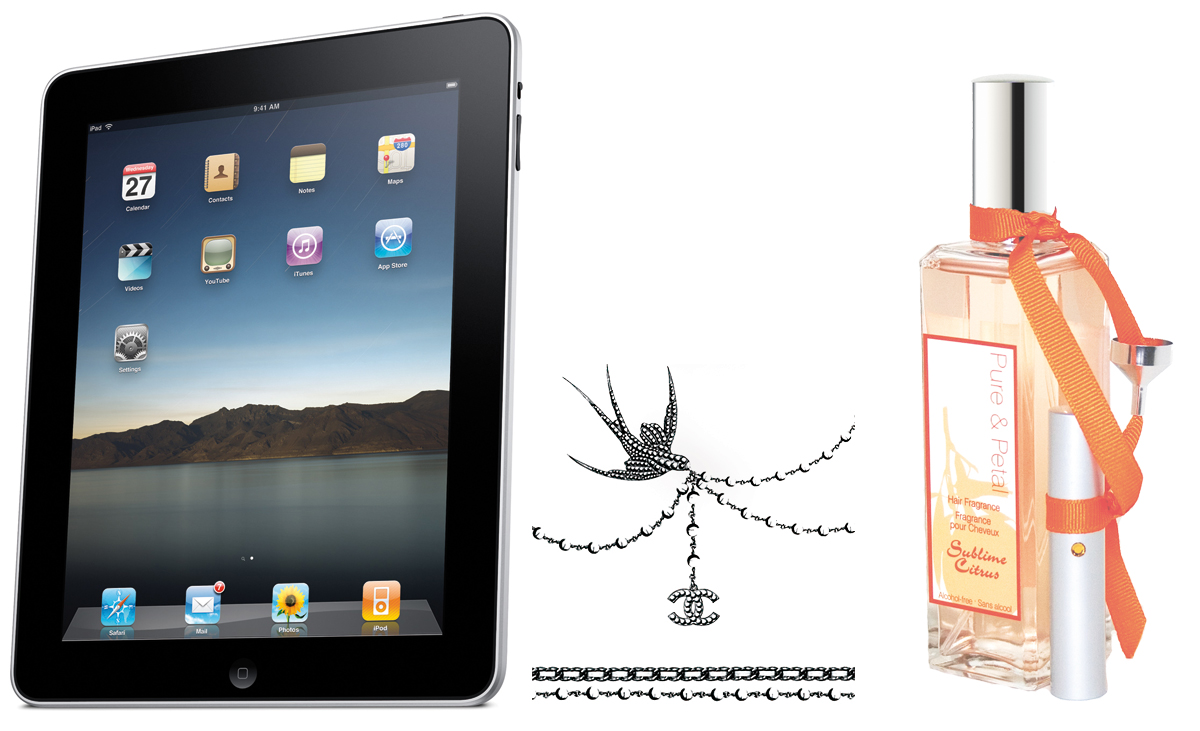 The iPad
Spring cleaning task number one: Recycle all of those dated fashion magazines you have been meaning to get rid of. Yes, even the back issue featuring those John Galliano lace-up wooden pumps you'd gladly give up your apartment for. Besides, aren't you tired of carrying around the slew of September issues come fall? With Apple's iPad, the latest eBook reader and pocket PC, it is a very feasible task. The lightweight, glossy wide screen device puts over 10,000 books, newspapers and magazines (coming soon) at your fingertips. As a matter of fact, Runway will be made available via the Zinio App in the coming months. Not only is the iPad a great eBook reader, it is also a fully functional portable PC. It comes complete with iWork, ideal for creating spreadsheets, Word documents and diagrams on the go; as well as iTunes and Safari for Web browsing. On top of all that, photos and videos are delivered impeccably on the 9.7-inch LED backlit screen with Multi Touch display on IPS technology. It is available in three storage capacity's: 16GB, 32GB, or for maximum storage, the 64GB model. Starting at $499, the iPad is available for sale via Apple.com or in Apple stores and has made Amazon's Kindle the hyped-up product of the past. Check out the Runway Magazine app on iStore!
Pure & Petal Hair Perfume
This is Pure and Petal's "Heavenly Clean"; just one of four scents created by chemical engineer Elizabeth Pyshnov when she decided one day that she wanted her hair to smell freshly-washed in between showers. After conducting market research, Pyshnov found that she wasn't alone–in fact, 45% of women wished that their hair smelled fresh and clean longer. Have you ever tried to use eau de parfum on your hair, only to discover that the alcohol dries it out? So in 2006, after a year and a half in product development, Elizabeth launched Pure and Petal. The fragrances are healthy, containing natural essential oils, pro-vitamin B5 and silk protein (in lieu of harsh alcohol or silicone). In addition to Heavenly Clean, the fresh-out-of-the-shower scent (pictured), other scents include Linden Blossom, the sophisticated feminine scent; Summer Passion, the sexy, flirty scent; and Sublime Citrus, the radiant energizing scent. Each is available in a 4 oz bottle for $42.99 or the Limited Edition Gift set, which includes the 4 oz fragrance and 0.1 oz travel-sized fragrance. Purchase via www.purepetal.com.
Chanel Trompe L'Oeil: Chanel Temporary Tattoos
Gabrielle "Coco" Chanel once said, "A style does not go out of style as long as it adapts itself to its period." On October 6, 2009, Karl Lagerfeld took the late couturier's advice with his own modern rendition of an 18 th-century barn raising. Except on Lagerfeld's farm, Abbey Lee Kershaw isn't wielding a pitchfork emblazoned with the Chanel logo. Instead, creative director Peter Phillips created the Les Trompe L'Oeil de Chanel, temporary skin art that prominently adorned the wrists and thighs of Lara Stone in look six and Kasia Struss in look 43. After seeing them on the runway, incorporating the tattoos into your daily wardrobe may seem like a challenge. However, compared to Karl's other fashion endeavors (such as fur-lined motorcycle helmets) these tattoos are user-friendly and economical. Each package contains 55 designs including pearls, sparrows, chains, blossoms and the eponymous Chanel logo, and are available for purchase via Chanel.com for $75. To apply: Place chosen design face down on desired location, dab with water, wait thirty seconds and voila! Whether you are making a red carpet appearance this summer or vacationing in St Tropez, consider yourself branded.