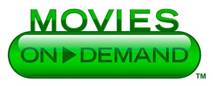 You have no idea how many press releases and column ideas arrive in my mailbox on a daily basis. Some of them actually warrant to be posted on the site while others find a new life in my trash folder. Today's topic speaks to one of HU's prime beliefs of "Convenience over annoyance" otherwise knows as Movies on Demand.
Now, before you think I've lost my mind or that I believe compact discs are considered cutting edge, bear with me a moment. Sure, you've all seen the not so subtle ads on cable touting its Movie on Demand service, but here's where the plot thickens.
In what could be seen as a shot across the bow to home video stores like Blockbuster (or in my neighborhood, Hollywood Video), Hollywood studios and cable companies are actually working together to bring you the best of the best in movies the day they arrive on DVD. Suffice it to say, this collaboration could put chains like Blockbuster on financial life support and it's doubtful that it'll receive a bailout or a public option.
With Movies On Demand you don't even have to get showered and dressed to travel to your local Redbox or burn the calories required to walk all the way to your mailbox to retrieve your red little envelope from NetFlix. Best of all, you're not subjected to the whims (and often understocking) of your favorite monolithic video store when you want the latest copy of the latest action film or tear jerker. Yes, I consider Jackass III to be a tear jerker.
Over the next few months, the new Movies On Demand service will make the latest DVDs available for viewing the same day they appear in stores. That's right, no more waiting. No more excuses and best of all, no more parking or wondering what psycho is parked next to you. That's convenience.
Some titles, that will be available or are available now are 2012, Alvin and the Chipmunks 2 "The Squeakuel", BandSlam, Armored, Astro Boy, Brothers, Crazy Heart and many more.
If Movies On Demand lives up to its claims, we can all say good bye to most movie rental businesses as we know it. By removing the actual physical element of receiving a DVD in person or via the mail, you never have to worry about a movie being out of stock or being unavailable.
Blockbuster may be seeing the writing on the wall, but it's not going down without a fight. Despite facing bankruptcy and the backing of one of its major shareholders in billionaire Paul Icahn, the home video staple is taking steps to stave off Blockbuster's presumptive demise.
On Monday, the video chain gained a modest boost in stock price due to speculation of studio deals designed to give it a four week head-start for rentals over competitors Netflix and Redbox. In addition, Blockbuster's projected to have 10,000 of its own kiosks available this year, with DVD purchases available starting in June.
While Wall Street debates if these steps will save the video rental icon or merely hasten their demise as we know it, remains to be seen. After all, once upon a time, music fans were at the mercy of record companies and music chains? Wherehouse music, anyone?
What is known is that as companies fight for our entertainment dollar, it has to adjust to the times, whether it's cutting out the middle man, increasing selection or cutting out the time that I actually have to get off the couch.
This is just another step in a fully digital lifestyle for all of us and if you don't mind, I am going to go see what titles are available. If you want more info on this check out http://www.cablevideostore.com/
Hollywood Unwrapped by Jeremy Meyer is an opinion column. The opinions expressed in this column are solely the opinions of the columnist and are not necessarily the opinions of Runway Magazine or any other outlet that publishes this column.