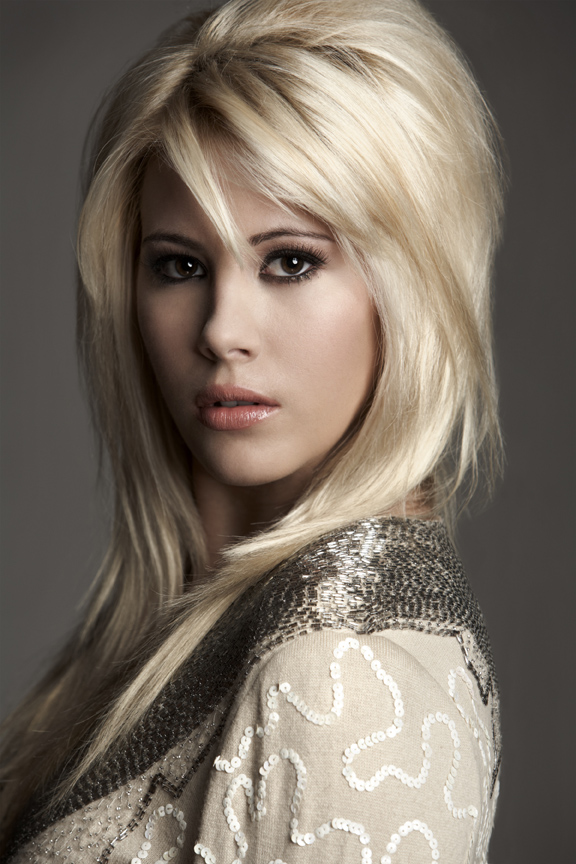 Tell us about "The Lamas Family!"? My family is full of entertainers who will give an open door and let our viewers into our everyday lives. Initially, I wondered (as anyone would) if it was a good idea, but in filming the pilot for E! network, I found that not only will people fall in love with the dynamic of our family, but the true love we hold for each other. You will see the good, the bad and the beautiful . Everyone's family tells a different story and we want to share ours.
What was growing up in show business like? When I was a little girl, I grew up on the my dad's set "Renegade." I would want to go to work with him everyday because I LOVED being in the hair and makeup trailer getting all dolled up. Growing up on set was normal to me, it was simple "Dad's work" to me and I absolutely fell in love with it all. I was always fascinated with learning everyone's roles on the set and how a show was made. When I was about 10 years old I decided this is where I belong, on sets … making movies.
What is your favorite thing in your closet? My favorite thing in my closet would have to be my first pair of heels that I have kept over the years. I slept with them for weeks after my mom finally bought them for me. I was about 12 years old … Keep in mind the heel was about a half inch but still they were heels to me. What do you do for fun? I love taking my dog Madison to the beach or on hikes and enjoy the beautiful city I live in. I've always been a beach gal, so naturally I love going to the beach and surfing. Its the most calming, relaxing thing I could do for myself.
Who is your favorite designer? My favorite designer would have to be Chloe for clothes and YSL for shoes.You're making me want to go shopping now!
Who are your influences? I look to my fabulous grandmother Arlene Dahl for all my advice in life . She is one of the most inspiring, influential individuals that I have come across my 23 years on this earth. She is old Hollywood at its finest. I only wish I will give my granddaughter what she has given me.
Where did you learn to act and why did you want to get into it? I started acting very young and continued to do so in high school. I went to acting class every week, because my father always said, "Know your craft. Know everything there is to know and never stop learning or taking classes." So, I listened. After high school it was college or Hollywood, and I booked a role on "General Hospital" so my path was chosen, Hollywood.
What can you tell Runway that the rest of the world doesn't know? No one knows, but I always have a scarf in my purse to dress up or down my outfit. I am a true scarf lover.
What films do you got coming out? I recently worked on three films— "Endless Bummer," "Deep in the Valley," and "In the Pines" which all come out this Fall!
What is your favorite movie and why? My favorite movie, (don't laugh), is "Clueless" because it is a funny, feel-good movie that I watched as a girl growing up. I know every line! Where is your favorite spot on Earth? I would have to say my favorite spot on Earth is my bed. It's my sanctuary— my sleep is very important to me, so when I have 3 a.m. call times I am not a happy girl!
Are you a day person or night person? When I am working on a project, I like to wake up early, go workout, maybe take a walk.When I am on hiatus or not working on something, I like to sleep in and become more of a night person.
What is your advice to aspiring talent? My advice to aspiring talent: If you have the passion for this industry, keep your craft close to your heart. Learn as much as you can about it and don't be satisfied. Always keep your skills fresh and your mind working on where you want to be.You'll find that you will get there if you do so. Have patience and trust in yourself and you will be able to do anything you set your mind on.